President Obama Sticks Up For Free Speech Rights Of Trump Supporter
It was a small, but meaningful gesture.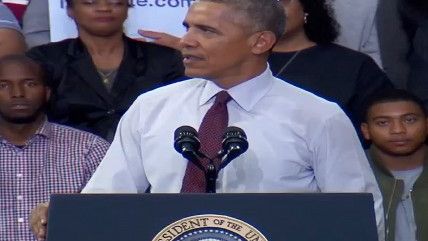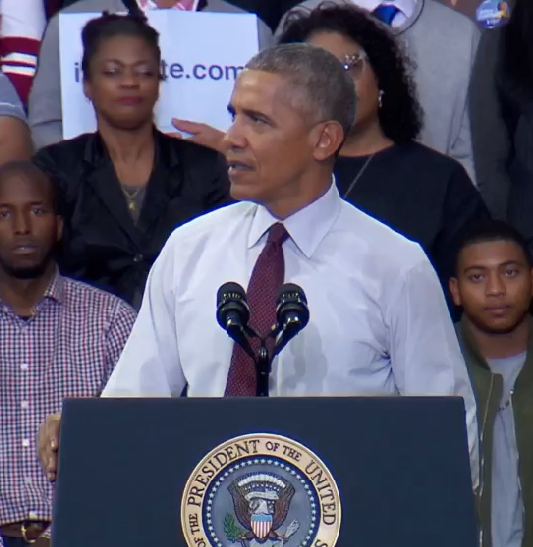 President Obama defended the free speech rights of an elderly military-attired man who stood up and held a pro-Donald Trump sign as the president was speaking at a Hillary Clinton campaign rally at Fayetteville State University in North Carolina earlier today.
When the Trump supporter made his presence known, the crowd shouted and chanted at him, completely ignoring the president's repeated admonitions for calm. For more than a minute, Obama looked visibly distressed at his inability to restore order, repeatedly shouting "Hold up! Hold up!" and finally "Everybody sit down and be quiet for a second!"
Eventually, Obama wrangled the crowd's attention and told them, "You've got an older gentleman, who's supporting his candidate. He's not doing nothin'. You don't have to worry about him," adding, "First of all, we live in a country that respects free speech. Second of all, it looks like maybe he might have served in our military and we got to respect that. Third of all, he was elderly and we got to respect our elders. Fourth of all, don't boo. Vote."
It was a small but meaningful gesture from Obama, who earlier this year also told gradutating college students, "Don't try to shut folks out, don't try to shut them down, no matter how much you might disagree with them."
To be sure, Obama hasn't always been a stalwart defender of free expression. He and his administration have supported draconian speech codes on college campuses, leaned on Google to censor videos, and been particularly squishy about defending the American concept of free expression at the United Nations, to name just a few knocks against Obama's free speech bona fides.
But considering the censorious tendencies of both Clinton and Trump, Obama scolding a large group of passionate supporters—and reminding them that "we live in a country that respects free speech" and that there's no need to shout down divergent opinions—is a truly refreshing gesture, if sadly fleeting.
As the president said of the man who reportedly only stood and held a sign (hardly an overly aggressive act of protest), "you don't need to worry about him."
Go to about 11:40 in the C-SPAN video of the event to watch the disruption and President Obama's reaction: