Bill Weld Criticized by Warm-up Speaker, Heckled by Audience Member at Rally (UPDATE: Rhode Island L.P. Withdraws From Weld Rally)
"Just so the record is clear everybody, I endorse Gary Johnson," the Libertarian VP nominee says six days before election.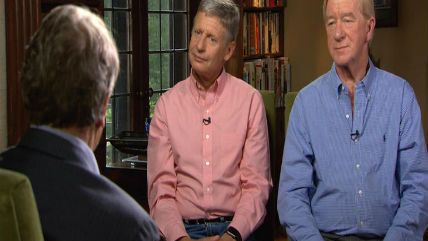 Turns out that when the vice presidential nominee of a political party goes out of his way to vouch for the (extremely dubious) honesty of the presidential nominee of a competing party one week before Election Day, his own team doesn't dig it so much. That's what would-be Libertarian veep William Weld discovered yesterday at a rally in Memphis, when he was called out by his own warm-up speaker:
"Bill Weld!" 32-year-old former soldier Cole Ebel shouted toward the end of a fiery anti-war speech. "We do not endorse Hillary Clinton or her foreign policies!"
Astonishing as it may sound, less than 130 hours before the first polls open, Gary Johnson's running mate felt compelled to say at his own rally, "Just so the record is clear everybody, I endorse Gary Johnson for president of the United States."
During the audience Q&A, a guy named Chad Chaderson said, "I enthusiastically supported Governor Johnson back in 2012, but after watching you perpetually defend and support Hillary Clinton I just wanted to say you're the reason why I'm not voting Libertarian this time, and I'm sick of it. So screw you. SCREW YOU!" You can watch the video here. (And now you can watch the whole rally here.)
According to The Commercial-Appeal's account, there were also shouts of "She's a war criminal! Stop lying!" Weld responded "Well, Gary and I have said we do not agree with Secretary Clinton's policies about Libya and Syria," and reportedly changed the subject.
UPDATE: The Libertarian Party of Rhode Island has withdrawn its support for a planned Weld rally this Friday in Providence. From its statement:
"The Libertarian Party of Rhode Island proudly espouses the fundamental Libertarian principles of maximum freedom and minimum government," said LPRI Chairman Pat Ford. "That's why it is particularly disturbing for us to witness the national Libertarian Party vice presidential nominee wage a quixotic campaign in support of a presidential candidate – not his party's candidate – whose personal and political philosophy are completely incompatible with fundamental Libertarian principles." […]

"There comes a time when compromise and accommodation have to stop, and you jump off the slippery slope to take a firm stand. This was not the easy choice to make, but it is the principled one."

The LPRI continues to embrace the presidential candidacy of Governor Gary Johnson.

"We are unequivocal in our belief that Governor Johnson represents the best choice of the candidates for President of the United States," said Chairman Ford. "And while, ironically, we agree with Bill Weld that Donald Trump is fundamentally unsuitable for high office, Hillary Clinton's record of deceit, failure, and questionable character make her equally unsuitable," Mr. Ford said.