Eagles' Josh Huff Latest NFL Player with Marijuana Problem
May become a victim of irrational anti-gun sentiments too.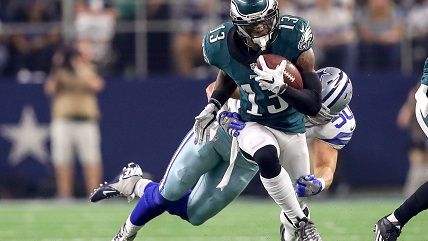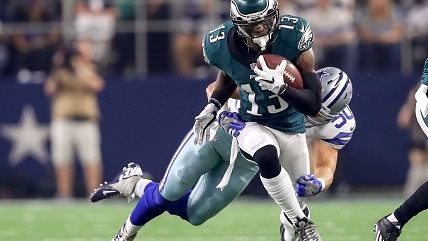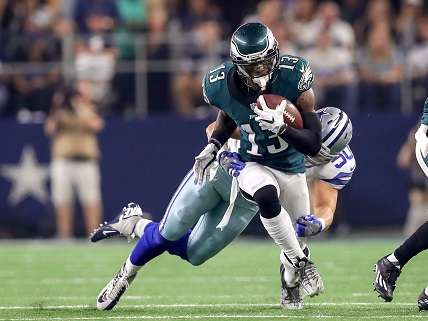 Philadelphia Eagles wide receiver Josh Huff was reportedly pulled over while speeding across the Walt Whitman Bridge into New Jersey, with police citing him for possession of a small amount of marijuana (under 50 grams) and unlawful possession of a handgun and hollow-point bullets. He was issued two warrants for the weapons offenses and a criminal summons for the marijuana, and received traffic tickets.
Despite calls in local sports media for Huff to be benched or even cut, Eagles coach Doug Pedersen expects Huff to play in this weekend's game. Huff's alleged speeding (and tinted windows) are traffic offenses. While the marijuana and gun charges are more serious, they are no more inherently violent or harmful to others than the traffic charges. Hollow-point bullets are even legal in Pennsylvania and every other state except New Jersey, which has specific laws prohibiting the bullets. It appears authorities claim Huff was already in New Jersey when he was pulled over. That didn't stop one local columnist who called for Huff to be cut from treating hollow point bullets like a war crime. They were "bullets banned for use in warfare by most major powers," Marcus Hayes wrote breathlessly at Philly.com, and Huff should be cut for acting like a "dumbass." Hollow point bullets can also be described as among the most popular bullets in the U.S. for law enforcement and civilians. Even the Social Security Administration orders hundreds of thousands of them.
While legal attitudes about marijuana are shifting toward acceptance, when it comes to the National Football League, Huff may be in more trouble for the possession of marijuana than anything else. While marijuana has been mostly decriminalized in Philadelphia, where the Eagles play, and legalized in a number of jurisdictions where the NFL plays, the NFL has the toughest rules against marijuana of any of the major American sports leagues, as Tom Junod noted in ESPN Magazine in a profile on Eugene Monroe, a former NFL player who has become a medical marijuana advocate. Monroe was actually the first active NFL player to speak out against the NFL's restrictive marijuana rules but retired shortly after, citing health concerns. Among them was Monroe's concern about the effect of painkillers, often prescribed by NFL doctors for the various injuries sustained by players as well as recovery from surgeries.
Given how much more strenuous and physically demanding and damaging football can be than, say, the NHL (where only a third of players are tested for marijuana every year), the NFL should have been on the cutting edge of marijuana reform advocacy and research into medical marijuana. Instead, it took players like Monroe, who has funded research into medical marijuana, for the NFL to even look at the possibility of marijuana as a pain management tool. A growing number of NFL veterans, including two-time Super Bowl champion Jim McMahon, have been pushing for the NFL to allow players to explore marijuana for medical and other reasons.
Watch Reason TV's "The NFL Should Let Players Use Marijuana":