Trump Won't Pay Polling Firm, CNN and Brazile Parted Ways, Chicago Has Deadly Weekend: P.M. Links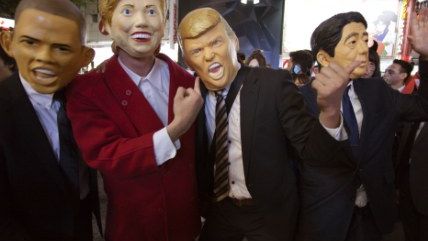 (Torin Boyd/Polaris/Newscom)
Torin Boyd/Polaris/Newscom

Donald Trump's campaign is disputing more than $750,000 it owes to a polling firm and is declining to pay it.

CNN has cut ties with Donna Brazile after emails released by Wikileaks showed her apparently sending the campaign likely questions for Hillary Clinton before the second debate. CNN, though, also denies having given Brazile any advance information. Brazile actually resigned earlier in the month, but this is all coming out now.
The White House says it does not believe FBI Director James Comey is trying to influence the election with his Friday announcement of discovering more potentially relevant emails in the Hillary Clinton investigation.
A source told CNBC that Comey didn't want to identify Russia as the source of hacking intended to influence America's presidential election so close to the election.
A judge ruled today that the audio recordings of the 911 calls by Orlando nightclub shooter Omar Mateen must be made public.
This weekend was Chicago's deadliest of the year: 17 people were fatally shot.
The Pirate Party in Iceland underperformed the polls over the weekend and came in third place in the country's election, but still improved and may gain seven seats in the parliament. The tech-oriented party has libertarian leanings in a lot of areas connected to civil and individual rights (free speech, intellectual property reform, ending the drug war, et cetera). But I've also been told by several Icelandic libertarians that they are more inclined toward the direction of left-wing government central planning and control of economic issues than libertarians would generally support.
Police in Montreal snooped on a journalist's phone in order to identify his sources. The sources were apparently leaks from within the police department connected to stories where police were alleged to have fabricated evidence in drug and gang arrests.
Follow us on Facebook and Twitter, and don't forget to sign up for Reason's daily updates for more content.