Venezuela Raises Minimum Wage, Public Sector Pay to Quell Protests
Government responds to inflationary pressure by contributing to it.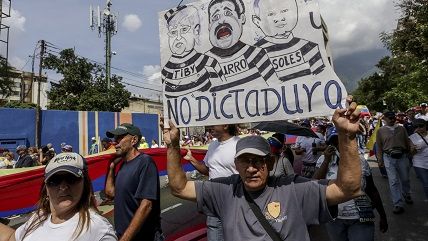 (Cristian Hernandez/EFE/Newscom)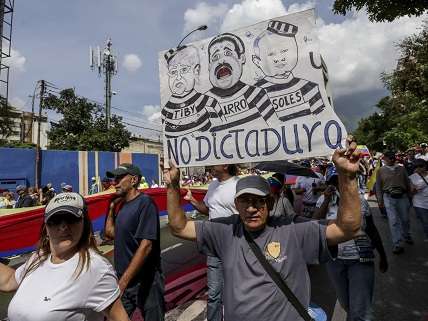 The Venezuelan government announced a minimum wage hike of 20 percent effective November 1, going from 22,576 Bolivars to 27,091 Bolivars, as reported by Caracas Chronicles, which cites the unofficial exchange rate at 1,350 Bolivars to the dollar. The official rate is about 10 Bolivars to the dollars. The minimum monthly wage, then, has gone up by $454 officially but only $3.34 in reality. There was also a hike in food subsidies, though one that's outpaced by rising food prices, and a 20 percent across the board wage hike for public sector workers, who will also see their Christmas bonuses start to be paid early.
"The more coups, the more hikes," President Nicolas Maduro explained according to Caracas Chronicles. Maduro framed the hikes "as an achievement, and not as a consequence of the wild inflation rates that we're experiencing thanks to his failed economic model," wrote Chronicles' Naky Soto. "It's no use to have more bolívars if they're worth less every day."
The deteriorating economic and political conditions in Venezuela have led to some of the largest anti-government protests since 2014, as well as a new round of political violence perpetrated by pro-government vigilantes against demonstrators. A national strike is scheduled for today. The National Assembly, the opposition-led legislature, in the meantime, has started to push for impeachment proceedings against Maduro, saying there had been "a breakdown of constitutional order and a continued state of coup led from the highest level of government by President Nicolas Maduro" in a resolution passed Sunday. This week, members of the parliament heard from victims of the Venezuelan government. Maduro blamed the U.S., insisting "Obama is leaving and wants to destroy Venezuela first." National Guard members have had to escort5 opposition lawmakers amid violence from pro-government vigilantes.
Earlier this week, Maduro had a surprise meeting with Pope Francis—the Vatican has indicated it wants to take a more active role in defusing tensions in Venezuela. The Vatican said the pope urged Maduro to open a "sincere and constructive dialogue" over the plight of Venezuelans. Were the pope not so staunchly "anti-capitalist," he could have pointed out that Venezuela's situation is not unique. Over the last quarter century, countries around the world saw standards of living and prosperity rise as they replaced authoritarian socialist governments with governments more tolerant of the kinds of free markets that help create, sustain, and spread wealth.
Instead, the Venezuelan government announced a new round of measures inserting the government into commercial processes its own push for over-regulation and centralization crippled in the first place, as protesters ask riot police whether they'll be killed for being hungry.