FBI Reopens Investigation on Clinton's Private Email Server (UPDATE: Connections to Anthony Weiner)
Turns out there's still time for October surprises.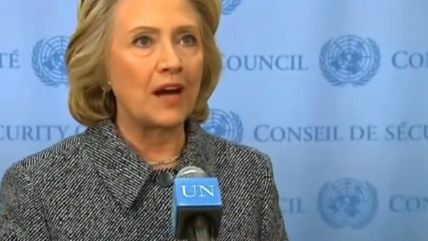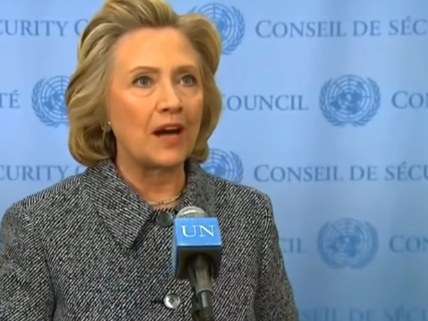 It's both a Friday news dump and an October surprise! FBI Director James Comey sent a letter to several members of the House today letting them know that the agency was reopening its investigation into Hillary Clinton's use of a private server to store emails related to her work as Secretary of State.
When Comey ended his investigation—over whether Clinton and her staff mishandled classified information—he determined that she had been being extremely careless with data but decided not to recommend charges, and the Justice Department agreed.
Today the situation has changed, but it's way too soon and Comey's being way too close-lipped to determine what is happening. The letter reads:
In connection with an unrelated case, the FBI has learned of the existence of emails that may be pertinent to the investigation. I am writing to inform you that the investigative team briefed me on this yesterday, and I agreed that the FBI should take appropriate investigative steps designed to allow the investigators to review these emails to determine whether they contain classified information, as well as to assess their importance to our investigation.
Comey concludes he doesn't know yet whether any of this information is significant and doesn't know how long it will take to find out. Check out the letter for yourself after the jump.
UPDATE: While still being very cagey with explanations, apparently the investigation is also not connected to the Wikileaks email releases. And some people have decided to take the "work the ref" angle by insisting that the investigation hasn't been "reopened"? Why? Because it was never formally closed, which is kind of a weird argument. From the Washington Post:
A law enforcement official, speaking on condition of anonymity, said the emails were "numerous" and said they are not related to hacks of recent Democratic party institutions or the emails that have been released in recent days by the anti-secrecy group WikiLeaks.

The official said once informed of the find, Comey felt an obligation to inform Congress, since he had previously told lawmakers the investigation had been completed. As a technical matter, however, the Clinton investigation was never formally closed, the official said.
UPDATE II: According to The New York Times, the new emails they're analyzing were on devices belonging to Huma Abedin and Anthony Weiner.
Jacob Sullum has noted that how Clinton has responded to this scandal has reinforced her reputation for dishonesty. And check out ReasonTV's hilarious-yet-horrifying supertake of misleading statements by Clinton: