Bureaucracy, Funding No Cure for Homeless Problem
At the minimum, county officials should look at government rules that exacerbate the suffering.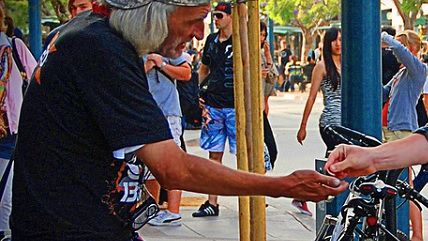 My office is located in a part of downtown Sacramento that the Sacramento Bee recently referred to as a "blighted and foreboding stretch of K Street." It's not that the buildings are so decrepit. In fact, with the city's new arena, there's a concentrated building boom going on around these parts. The problem is it is overrun with poor and bedraggled people sleeping in doorways and carting around their sacks of belongings.
It's really depressing, and at times dangerous. Not long ago, I absent-mindedly wandered into the middle of a fight while staring at my cell phone. A guy covered in heavy chains—like a scene from "Beetlejuice"—recently limped down the street yelling at his demons. The neighborhood is reminiscent of an open-air insane asylum. People beg. They scream. Some are desperately hungry.
This obviously is a big problem in most urban areas, which have developed decent-sized budgets to deal with it. In Orange County, California, for instance, the Santa Ana Civic Center is ground zero for the homeless population. Given the location of county offices, officials can't avert their eyes from the problem. But their approach is emblematic of governments everywhere as they remain mired in a bureaucratic worldview that is unlikely to do more than chip away at the edges of this intractable problem.
The county of Orange recently hired a homeless czar, Susan Price. She just released "An Assessment of Homeless Services in Orange County," which offers a roadmap of current services. There's nothing particularly wrong with its assessment or recommendations, as it calls for a more collective, regional approach to the problem. But there's nothing particularly right about it, either.
The report calls for hiring a manager to "enhance" the Continuum of Care system. It wants to "improve regional coordination" by formalizing "protocols" for responding to homeless encampments. It wants to develop a "systemic navigation of services by diversifying the portfolio of services" and calls for more funding for shelters and housing assistance. It's self-congratulatory at times.
Homeless activists focused on the funding part of it. "A recent report by the ACLU estimates that it would take $13 million a year to permanently house the chronically homeless population, and a total of $55 million a year to house the entire homeless population," according to a report in The Voice of OC.
Over the years, I've heard myriad boasts from government agencies that if they only had x more dollars, they could eliminate some long-running problem. The extra money ends up building bureaucracies and boosting salaries for those who administer the programs. Without irony, the assessment report refers to Orange County's "broad-based working group that was charged with developing the Ten-Year Plan to End Homelessness."
The plan started in 2008 and was adopted in 2010. It's now 2016. Who believes the county is 60 percent along in its goal to "end homelessness"? Many say the problem is worse than ever. Sure, money would always help—but there will always be a demand for more services than can ever be provided. Cities that have been most generous toward the homeless—think San Francisco—have become magnets for homeless populations.
There are a variety of unfixable pathologies that lead some people to become homeless, including mental illness, drug addiction and domestic abuse. Many non-profit agencies have had the most success in dealing with these matters. But there will be homeless people as long as there are people. It's silly to talk about ending homelessness. It's useful to better coordinate governmental services, but it's more sensible to think creatively.
Price touts the idea of turning old motels into shelters for homeless people and at projects that use shipping containers to house people. Ironically, some Orange County cities have over the years chased poor people out of old motels by passing laws that limit occupancy to 30 days. One of the most obvious fixes costs nothing: repealing land-use rules and regulations that make it tough to accommodate homeless and poor people. At the minimum, county officials should look at government rules that exacerbate the suffering.
Some cities are creating tiny-house villages in old industrial areas where people pay small amounts of rent—but have a roof over their head and a community bathroom and kitchen to take care of life's basic functions. (Sadly, other cities are cracking down on them.) Are there more places to consider this idea?
Overall, the county's—and state's—high cost of housing makes it particularly hard for people at the bottom. With developable land so expensive, homes are costly to build and buy. Rents are soaring. High housing costs trickle down the entire housing ladder, making it cost-prohibitive to create low-rent facilities that could keep people off the streets. In other words, we need to think more broadly about housing markets and regulations.
The issue is not about shooing people away so we don't have to see them. It's about creating some humane policies. It's good that Orange County and other localities are making homelessness a priority, but not much will change until they break out of the box of bureaucratic thinking.