Trump's Insane Immigration Plan Would Add Yet Another Unnecessary Mandatory Minimum
Fast-tracked immigration prosecutions have already cost an estimated $7 billion. Now Trump wants to add mandatory minimum sentences.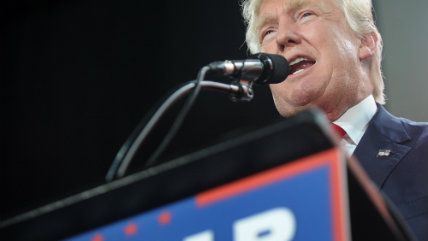 (Paul Hennessy/Polaris/Newscom)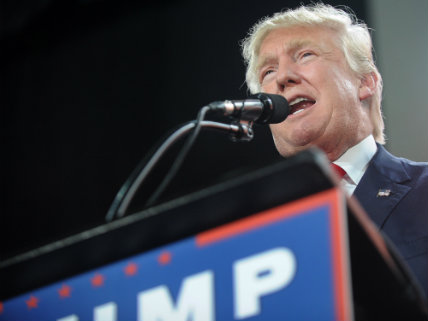 Donald Trump announced his proposed plan for his first 100 days in office on Sunday, including new mandatory minimum sentences for illegal border crossings, which already make up nearly half of all federal prosecutions annually.
In addition to his—frankly insane—plan to build a border wall and somehow force another sovereign nation to pay for it, Trump's proposal to thwart illegal immigration would establish "a 2-year mandatory minimum federal prison sentence for illegally re-entering the U.S. after a previous deportation, and a 5-year mandatory minimum for illegally re-entering for those with felony convictions, multiple misdemeanor convictions or two or more prior deportations."
Currently, illegal re-entry is punishable by up to two years in prison, although a prior criminal record can add more years to a sentence. Last year, Republicans in Congress introduced a bill called "Kate's Law," named after Kate Steinle, who was shot and killed by a man with several violent felonies and illegal re-entries into the country. That bill would have also strengthened sentences for illegal re-entry, but advocacy groups that oppose mandatory minimums say Trump's proposal would go even further.
"This is Kate's Law on steroids," says Kevin Ring, the vice president of Families Against Mandatory Minimums. "I don't know if our country has enough backhoes to build all the new prisons we'd have to to implement this dumb idea."
Illegal entry and re-entry is already one of the most prosecuted crimes in the U.S. and sucks up an enormous amount of federal resources. According to a report by Grassroots Leadership earlier this year, prosecutions of illegal entry and re-entry into the country already makes up 49 percent of the federal caseload every year. Foreign nationals make up 22 percent of the federal Bureau of Prisons system, which was operating at 20 percent over its maximum capacity as of 2015. The current average sentence for illegal re-entry is 18 months, according to the report.
To try and deal with both the huge amount of immigration cases and the small number of federal judges, the Bush administration created Operation Streamline in 2005, which allowed federal courtrooms to handle dozens of illegal entry and re-entry cases in a single hearing. The program continued to escalate under President Obama, reaching nearly 100,000 immigration prosecutions in fiscal year 2013. The feds took their foot off the gas in 2014, but roughly three-quarters of a million people were prosecuted under the program over a 10-year-period.
"Nothing has worked to stem the tide [of illegal immigration]," retired federal judge Felix Recio, who served from 1999 to 2013 in Brownsville, Texas, said in a conference call with reporters in July shortly after the release of the report. "The only thing we have done is destroyed the lives of many people who only desired to exercise their human rights to feed and care for their families."
Former federal prosecutor Ken White wrote at the blog Popehat in September that Trump's claim that mandatory minimums would have an impact on illegal immigration is "crowd-pleasing bunk":
Even with fast-track programs in place, and even with immigration crimes taking up a very large percentage of federal criminal efforts, only a small percentage of illegally returning deportees are prosecuted criminally. A tiny percentage of first-time illegal entries face prosecution. There are no resources to do more. U.S. Attorney Offices generally create internal guidelines to determine which cases they'll prosecute. For instance, when I was a federal prosecutor in the 1990s, the Los Angeles office only prosecuted cases involving aliens with prior aggravated felonies or lots of prior deportations. Those days, the office—one of the biggest in the country—indicted about 1,200 – 1,500 cases a year total. That number is lower now. It cannot make a statistically significant impact on immigration crime.
What it can make a statistically significant impact on is the Justice Department budget. The prosecution and incarceration of illegal entry and re-entry offenders under Operation Streamline has cost $7 billion since 2005, according to the Grassroots Leadership report.
Trump's fabulous, just really tremendous border wall could also cost up to $25 billion, according to a Washington Post estimate.