Eugene, Oregon, Touts Bike Share Program as 'Innovative Transportation Solution'
This after heavy-handed regulations pushed Uber out of the same market last year.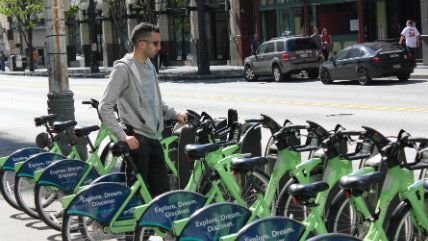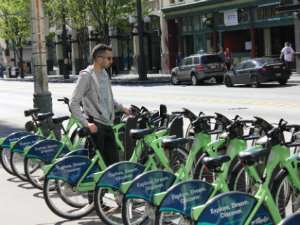 On Friday, the city of Eugene, Oregon, signed a contract with New York–based Social Bicycles to construct a bike-share system.
Bike sharing has been a goal of the city government since 2013, when it commissioned a study on the feasibility of operating such a system in the city. That report, released in June 2014, emphasized that such systems help to relieve pressure on overburdened mass transit systems and provide users with a cheap and effective means of making short intra-city trips.
Those facts have remained part of the city's talking points over the last two years. The news release it put out after the contract was inked describes Eugene Bike Share as "an innovative transportation solution for short urban trips," while the municipal website notes that it will lower personal transportation costs and help with "first and last mile connections to transit."
What's odd about that (besides the hilarious description of a two-century-old technology as an "innovative transportation solution") is that the city just last year decided to shut down another, arguably more innovative transportation solution: Uber.
The ridesharing company started up its Eugene operations in July 2014, offering the city pretty much all the benefits Bike Share is promising it now: cheap and convenient urban trips, more travel options, and lower personal transit costs, all at zero cost to the taxpayer.
Unfortunately, Uber's model for providing these benefits—what with its gas-powered machines and refusal to comply with taxi regulations—was not nearly as popular with the Eugene city council. In November 2014 it started issuing fines for noncompliance, and when that proved ineffective sued the company to get it to close up shop. On Easter Sunday 2015, Uber ceased operating in the city.
In the year and a half since, Eugene residents and visitors have had no choice but to shell out more for traditional taxis or pack themselves onto the city's supposedly overcrowded public transit options. It is possible that, once established, Bike Share will offer these travelers some relief. But they'll have to wait until roughly next October—Bike Share's estimated completion time—to find out.
Update 10/28/16: A representative from the City of Eugene Planning & Development Department reached out to let us know that in May, the city changed its rules so that companies like Uber can operate if they meet certain requirements, outlined here. Reached for a comment, an Uber representative confirmed the company has not returned to Eugene due to the onerousness of the remaining rules, including the amount and type of insurance drivers are required to have. The headlines on this story have been updated.