Justin Timberlake Ballot Selfie Leads to Silly Hand-Wringing Over Laws
States threaten criminal action, but federal judges have dim view of bans.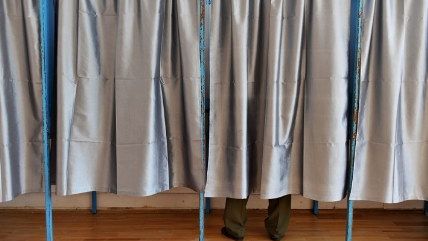 (roibul | Dreamstime.com)
Don't worry, Justin Timberlake! You're probably, maybe, possibly not going to have to shell out $50 or go to jail for 30 days for violating Tennessee's law against taking selfies at the ballot box.
Yes, this is a thing that is happening, and it didn't start in 2016. A few years back, people started getting into trouble for "ballot selfies." Many states have laws on the books to prohibit people from revealing the physical evidence of their votes in order to prevent corrupt "vote-buying" schemes.
It's also quite clearly a First Amendment violation. It never became an issue in the past because people weren't in the habit of carrying cameras around with them to the ballot box. But now everybody has a camera on the when they go to the ballot box thanks to smart phones.
This all leads us back to Timberlake, who broke the law in Tennessee by Instagramming a picture of himself at a voting station (early voting has begun there). You can't actually see who Timberlake is voting for, and the only purpose of the photo is to encourage people to go out and cast their ballots. Nevertheless, Us Weekly points out that Timberlake has violated the law.
Interestingly, this isn't an old, unused law Timberlake has run afoul of. It was a new law passed in 2015 that allows voters to use cellphones at voting locations but forbids them to take photos, videos, or make phone calls while in a polling place. Us Weekly was told by the local district attorney's office that Timberlake's transgression was "under review."
But he probably is going to be just fine, even if Tennessee attempts to press its case. On Monday, a federal district judge ruled that Michigan's law against ballot selfies was a violation of citizens' First Amendment right to free speech.
"The prohibition on ballot selfies reaches and curtails the speech rights of all voters," Judge Janet Neff ruled. Her ruling comes right on the heels of a similar federal ruling in New Hampshire in September that overturned at 2014 state ban on ballot selfies. On Monday, a Republican state senator in Colorado filed suit attempting to overturn his own state's ballot selfie ban.
So at the moment, federal rulings are on Timberlake's side here. Tennessee might want to think twice about trying to press the matter.
If you want to roll your eyes (maybe even while taking a selfie!), here's a state-by-state list compiled by the Associated Press of what laws are in place that determine whether voters can photograph their ballots.