ABA Rejects Report on Trump's Frivolous Lawsuits, Fearing a Frivolous Lawsuit
The episode underscores the author's point about the speech-chilling impact of SLAPPs by thin-skinned rich people.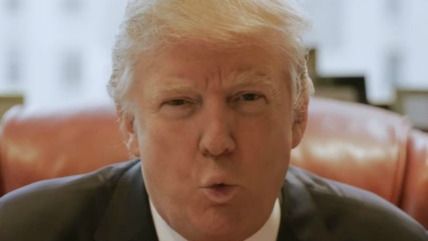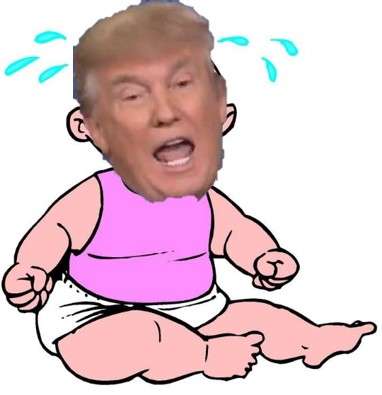 Troubled by Donald Trump's use of litigation to suppress criticism, the American Bar Association's Forum on Communications Law commissioned a report on the Republican presidential nominee's speech-related lawsuits. The author of the article, First Amendment lawyer Susan Seager, concluded that Trump's abuse of the legal system "provides a powerful illustration of why more states need to enact anti-SLAPP laws to discourage libel bullies like Trump from filing frivolous lawsuits to chill speech about matters of public concern and run up legal tabs for journalists and critics." Underlining Seager's point, the ABA declined to publish her report because officials there worried that Trump might respond with a frivolous lawsuit.
In a story published yesterday, New York Times legal reporter Adam Liptak quotes an October 19 email message in which James Dimos, the ABA's deputy executive director, worried about "the risk of the ABA being sued by Mr. Trump" if the organization published Seager's report as written. Dimos made it clear that his fear was not based on anything Seager had written that was actually defamatory or otherwise actionable. "While we do not believe that such a lawsuit has merit," he said, "it is certainly reasonable to attempt to reduce such a likelihood by removing inflammatory language that is unnecessary to further the article's thesis." This perceived need to pull punches shows how the possibility of a SLAPP ("strategic lawsuit against public participation") chills constitutionally protected speech, even when no suit is filed or even threatened.
The language that Dimos deemed "inflammatory" was critical of Trump but appropriately so. The ABA did not like Seager's title: "Donald J. Trump Is a Libel Bully but Also a Libel Loser." The alternative it proposed was less specific, less topical, and less interesting: "Presidential Election Demonstrates Need for Anti-SLAPP Laws." The bar association also objected to Seager's lead: "Donald J. Trump is a libel bully. Like most bullies, he's also a loser, to borrow from Trump's vocabulary." It seems the ABA likewise was not keen on Seager's other references to Trump's bullying, her description of the First Amendment as "his old foe," or her suggestion that "frivolous, speech-targeting lawsuits" should be called "Trump Suits" instead of SLAPPs. "The ABA took out every word that was slightly critical of Donald Trump," she told Liptak. "It proved my point."
Seager's "inflammatory language," although apt to get under Trump's skin, was not only clearly protected opinion but well-grounded in the evidence she collected. Highlights of her report, which the Media Law Resource Center posted on Friday, include the lawsuit that Trump filed against comedian Bill Maher over a joke mocking the billionaire real estate developer's promotion of anti-Obama birtherism. In 2012 Trump made a video in which he promised to pay $5 million to the charity of Obama's choice if the president agreed to release his "college and passport records." In response, Maher said during an appearance on The Tonight Show in early 2013 that he would pay $5 million to the charity of Trump's choice if the orange-hued reality TV star provided proof that he was not "the spawn of his mother having sex with an orangutan." Trump thereupon sent Maher a copy of his birth certificate and demanded that he pay up. Receiving no response, Trump filed a $5 million breach-of-contract suit, which he withdrew (Seager notes) after it was "roundly ridiculed by the Hollywood Reporter."
Trump's very first defamation suit, against Chicago Tribune architecture critic Paul Gapp, was equally frivolous. In 1984 Gapp wrote a column that slammed Trump's plans to build the world's tallest building at the southeastern tip of Manhattan, calling it "one of the silliest things anyone could inflict on New York or any other city" and an example of "Guinness Book of World Records architecture." Gapp also described Trump Tower as a "skyscraper offering condos, office space and a kitschy shopping atrium of blinding flamboyance." In an interview with The Wall Street Journal, Gapp called Trump's plan "aesthetically lousy." Trump sued Gapp for $500 million, claiming the critic's criticism had doomed the project. A federal judge had no trouble concluding that Gapp's opinions were constitutionally protected, noting that "expressions of one's opinion of another, however unreasonable, or vituperative, since they cannot be subjected to the test of truth or falsity, cannot be held libelous and are entitled to absolute immunity from liability under the First Amendment."
Seager identified seven speech-related lawsuits filed by Trump or his businesses, including "four dismissals on the merits, two voluntary withdrawals, and one lone victory in an arbitration won by default." Trump seems to have prevailed in that last case, which involved allegations by former Miss Pennsylvania Sheena Monnin about the Miss USA competition's fairness, mainly because Monnin received what a federal judge later described as "unconsionably" bad legal advice. Her father claims she never paid "a penny" of the $5 million in damages that Trump won after she failed to show up for a hearing, allowing his lawyers to present their case without rebuttal.
Seager notes that Trump lawyer Michael Cohen nevertheless used the Monnin case to threaten a Daily Beast reporter who last year inquired about Ivana Trump's 1993 claim that Donald had "raped" her when they were married. "Do you want to destroy your life?" Cohen asked. "It's going to be my privilege to serve it to you on a silver platter like I did that idiot from Pennsylvania in Miss USA, because I think you are dumber than she is….I'm warning you, tread very fucking lightly, because what I'm going to do to you is going to be fucking disgusting. You understand me?"
As that episode suggests, the actual lawsuits are just the tip of this speech-chilling iceberg. Over the years, Seager notes, Trump's minions have "sent countless threatening cease-and-desist letters to journalists and critics." A well-heeled news organization such as The New York Times, which Trump recently threatened to sue because it reported the allegations of women who say he kissed or groped them without their consent, is not likely to fold in response to such threats. But they send an intimidating message to journalists and outlets with fewer resources.
Those threats are intimidating because even a defendant who prevails suffers the anxiety, inconvenience, and expense of being sued. The process is the punishment, as advocates of SLAPP protections, which include expedited dismissal of frivolous suits and compensation for legal costs, like to point out. After financial journalist Timothy O'Brien argued in a 2005 book that Trump was worth less than he claimed, Trump filed a $5 billion defamation lawsuit against O'Brien and his publisher that dragged on for five years. Trump lost in court, but that is not the way he saw it. "I spent a couple of bucks on legal fees, but they spent a whole lot more," Trump told The Washington Post this year. "I did it to make [O'Brien's] life miserable, which I'm happy about."
Because thin-skinned rich people like Trump will happily pay to inflict such punishment, the risk of being sued by them, no matter how groundless the claim, can deter valuable speech, as illustrated once again by the ABA's skittishness about Seager's report. Charles Tobin, a former chairman of the ABA's Forum on Communications Law, told the Times "everyone who looked at it on the forum side felt her conclusions were well founded, were backed up by her scholarship, and that the ABA should not be censoring a First Amendment lawyer's point of view about a current presidential candidate's litigation tactics." George Freeman, another former chairman of the forum, argued that the ABA's rejection of the article betrayed its mission. "As the guardian of the values of our legal system," he said, "the ABA should not stop the publication of an article that criticizes people for bringing lawsuits not to win them but to economically squeeze their opponents."
[The date of Gapp's column has been corrected.]