Tim Kaine Not Worried About Wikileaks Targetting Him, Clinton Calls Trump a Loser, Kurdish Forces Say They're Within 5 Miles of Mosul: A.M. Links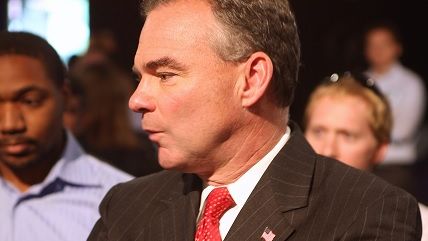 cliff1066/flickr

Hillary Clinton running mate Tim Kaine says he's not worried about Wikileaks targetting him. Clinton called Donald Trump a "loser" on the campaign trail. Gary Johnson could win New Mexico.

Kurdish commanders say their forces are within 5 miles of Mosul.
The Pentagon wants veterans from the California National Guard to return entrollment bonuses it says were improperly paid six years ago.
A 72-year-old retired soldier in Japan blew himself up in a local park, leaving a suicide note and injuring three. Two other explosions occurred nearby.
The undersecretary of state for East Asian and Pacific affairs will meet with the foreign minister of the Philippines after the Philippines president, Rodrigo Duterte, announced a "separation" from the United States. Duterte later called the U.S. the country's "closest friend."
The ACLU of New Jersey criticized a high school football pre-game ceremony honoring police officers, the military, and first responders for its underlying "frightening message."
A casino tour bus crashed with a big rig in California, killing at least 13 people and injuring more than 30 more.