A.M. Links: Trump Won't Promise to Abide by Election Results, Filipino President Vows to Cut Ties With U.S., Battle for Mosul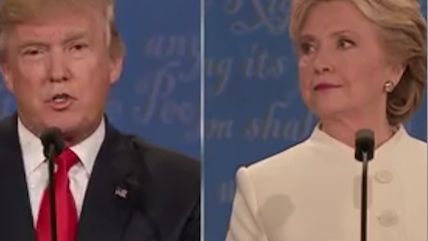 CNN

Hillary Clinton and Donald Trump faced off last night in the third and final presidential debate.

Poll: 52 percent say Hillary Clinton won the final debate, 39 percent say Donald Trump won.
Donald Trump on whether he will accept the results if he loses the 2016 election: "What I'm saying is that I will tell you at the time. I'll keep you in suspense."
Filipino President Rodrigo Duterte says he intends to sever economic and military ties with the United States. "I realign myself in your ideological flow and maybe I will also go to Russia to talk to Putin," he said. "There are three of us against the world. China, Philippines, Russia."
Tesla Motors will soon include self-driving technology in all of its electric cars.
"France's foreign minister is warning that up to a million people might try to flee the fighting in the Iraqi city of Mosul, and says authorities must check each one to make sure Islamic State extremists aren't escaping among the civilians."
Follow us on Facebook and Twitter, and don't forget to sign up for Reason's daily updates for more content.