University of North Dakota Offers Class on Starting Your Own Drone Business
Students even get a chance to pitch to investors.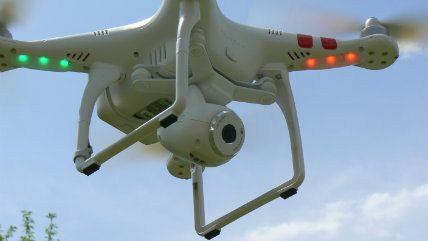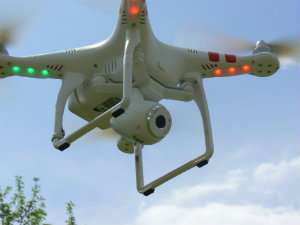 The University of North Dakota (UND) is preparing its students for the job market with a course on how to build their own drone businesses.
The new class walks students through the details of the unmanned aerial vehicle (UAV) industry, from regulation and current applications to its future potential, all with the aim of creating a whole new crop of drone entrepreneurs.
This is done in three phases. In phase one, the students earn their piloting certificates and study up on current Federal Aviation Administration (FAA) drone regulations. Phase two goes over the state of the industry today, so that students can get an idea of what commercial end users want from pilotless aircraft companies.
In the third and final stage, students are tasked with crafting their own business ideas, which they will then pitch to a panel of actual venture capitalists in a Shark Tank–like setting.
Matt Dunlevy—who designed and teaches the course along with his co-instructor, Rick Thomas—tells Reason that it's proving quite popular. Though it only opened up two weeks before classes began this fall, Dunlevy had no problem filling seats. Everyone from engineers and business students to arts and music majors wanted in.
And the interest turns out to be driven by more than just idle curiosity about unmanned aircraft. Some students are taking the course so seriously that they aren't even sharing their business ideas with their professors, preferring to keep that information private until they're ready to pitch to investors.
That his students are so keen on engaging in the commercial practicalities of drones excites Dunlevy, who sees universities as crucial to growing the young industry. And indeed, the world of UAVs does seem poised for explosive growth. The Association for Unmanned Vehicle Systems International, a trade group, predicts the drone industry will add 100,000 new jobs and $82 billion to the U.S. economy by 2025.
Dunlevy actually thinks that's an underestimation—and that those 100,000 jobs could be here as soon as the next five to seven years.
It's hard to fault him for his optimism, considering the increasingly inventive applications for unmanned aircraft already being proposed. From providing cell service after a natural disaster to delivering pizza through the air and to your door, drones are becoming a bigger and more important presence in the economy and our lives.
With UND's first class of students set to make their drone business pitches to investors in December, even more and cooler ideas are likely on their way.