Two Major Surveys Find Record Support for Legalizing Marijuana
According to Gallup, 60 percent of Americans oppose pot prohibition.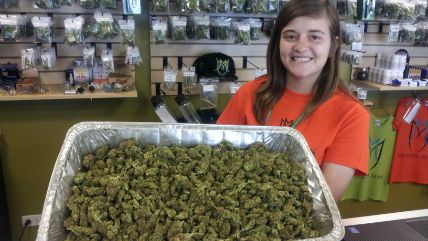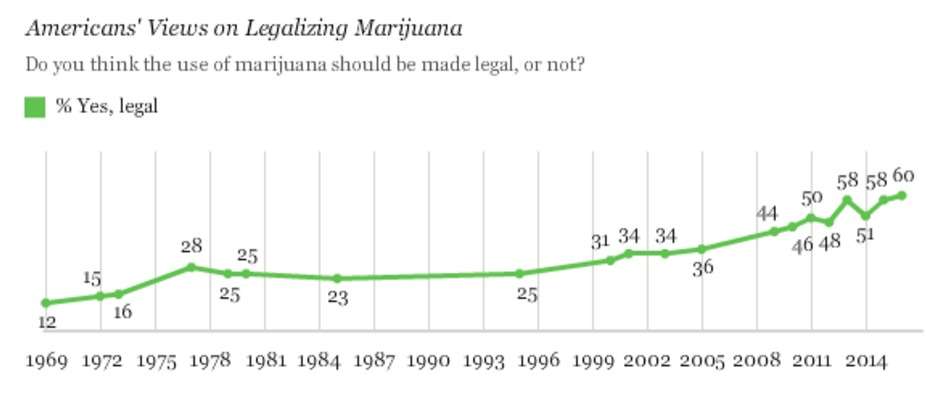 The latest Gallup survey finds stronger public support for legalizing marijuana than ever before: 60 percent, up from 58 percent last year and 51 percent in 2014. When Gallup first asked the question in 1969, 12 percent of Americans said "the use of marijuana should be made legal." Support rose to 25 percent in 1979 before leveling off and dipping a bit during the Reagan administration. It started rising again in the late 1990s.
The Gallup results come a week after the Pew Research Center reported record support for legalization in its survey, which found that 57 percent of Americans think pot should be legal, up from just 16 percent in the late 1980s. Both surveys found, as usual, that marijuana tolerance is inversely correlated with age. According to Gallup, more than three-quarters of 18-to-34-year-olds think marijuana should be legal, compared to 61 percent of 35-to-54-year-olds and 45 percent of respondents 55 or older. But support for legalization also has risen within each age group and within each generation.
Among millennials (defined as respondents who are now 18 to 35), support rose from 34 percent in 2006 to 71 percent this year, according to the Pew survey. Among members of Generation X (currently 36 to 51), 57 percent favor legalization, up from 21 percent in 1990. The increase among baby boomers (currently 52 to 70) is similar, from 17 percent in 1990 to 56 percent this year. Neither parenthood nor age-related conservatism seems to have increased enthusiasm for pot prohibition within these age cohorts, all of which have wide direct and indirect experience with cannabis. The only cohort in which a majority still favors prohibition is the Silent Generation (older than 70 in 2016), and even within that group the share supporting legalization more than doubled (from 15 percent to 33 percent) between 1969 and 2016.
According to Pew, prohibition also remains popular among conservative Republicans, only a third of whom think marijuana should be legal. Republicans in general are against legalization (55 percent), although most moderate Republicans (63 percent) support it. The party split is stark, with two-thirds of Democrats supporting legalization, including 78 percent of liberal Democrats.
"The topline number obviously bodes well for the marijuana measures on state ballots next month," says Marijuana Majority Chairman Tom Angell, referring to the Gallup results. "But what gives me even more hope [is] the demographic breakdowns showing just how strongly young people support ending prohibition. It's more clear than ever that legalization is the future. More politicians—presidential candidates included—would do themselves a big favor to take note of the clear trend and then vocally support legislation catering to the growing majority of Americans who support modernizing failed marijuana policies."