Michael Moore Releasing Trump Film as 'October Surprise' Thanks to Citizens United
Moore can also be honest about the point of his film now that the Supreme Court has freed him to do so.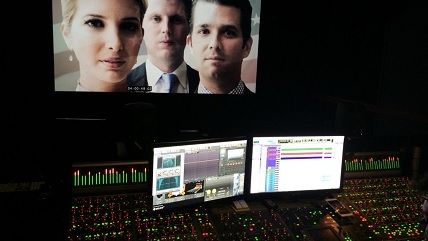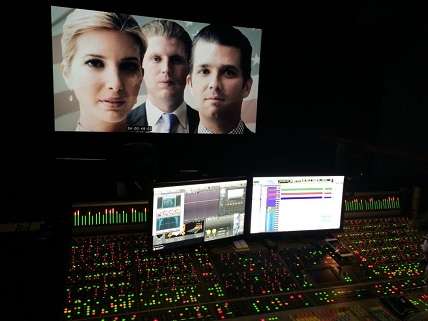 Director Michael Moore announced last night that he would be releasing a new film, Michael Moore in Trumpland, calling it his "October Surprise" and offering free tickets on a first come, first serve basis for the debut in New York City tonight.
The film is about Moore's attempt to put on a one-man show at the Midland Theater in Newark, Ohio and how theater management "prevented him from taking the stage as they deemed him too controversial," according to Deadline.
Moore bills the film as one "Ohio Republicans tried to shut down." On September 26, he wrote on Medium for the first time about his "October surprise," revealing the one-man show he was trying to put on a live one man show about "this crazy Presidential race" and film it. He wrote that his plans "got dealt a death blow by the Republicans of Licking County, Ohio," saying his team got a call from theater management that said that "the community board that oversees the theater has voted not to allow Michael Moore to perform his how here" and were declining the rental.
Moore claimed that when asked, the theater management told them that Moore's appearance "could reflect negatively" on the theater and cause it to lose long-standing patrons. Moore wrote that the theater management told his team he was "too controversial and the risk is too great." Finally, according to Moore, the theater management told his team that the board was "fairly conservative and it was felt that Mr. Moore would try to sway people's minds to vote his way."
"Well, they got that right," Moore wrote. "They aren't stupid. This show, and my plan to release a video of it it [sic] nationwide so it can be seen by millions in the weeks before the election, should definitely 'sway' some people into voting!" He said he took the theater's awareness of the "subversive intent behind this one-man show" as a compliment. The theater's executive director disputes Moore's claims, telling Reason Moore's claims were "unfounded" and that there was "never a community board vote."
"The Midland Theatre never reached an agreement to rent the theatre to Michael Moore nor his agency," Nancy Anderson wrote via email. "Unable to resolve a number of details and concerns in a comfortable timeframe, the theatre declined to present Mr. Moore's show. No contract was offered nor agreed upon."
"It is disappointing when a singular business decision leads to disrespectful assumptions and public commentary about our entire community," Anderson continued. "We remain focused on supporting the arts and culture in our community and the power they have to transform lives."
The theater also disputed the claim back in September, as the state party's communications director pointed out when asked to comment about Moore's claim that they tried to shut down his film, noting this Columbus Dispatch article and saying the party was not previously aware of the situation before Moore's claim. In a Facebook post, the theater blamed concerns about what the production involved, the short timeline and the costs the "free event" factored into their "decline to present." At the time, Anderson also blamed the political climate, telling the Dispatch events in or outside the theater related to Moore's performance "could negatively affect the theater and other Newark businesses and residents, due to the current political climate."
While Moore may be more open about the electioneering involved in Michael Moore in Trumpland and the making of the movie, it's nothing new for the politically-minded director, whose films often have an unapologetic political agenda to them. What's new is that Citizens United allows Moore to be honest about it. The film that sparked that landmark First Amendment ruling, Hillary: The Movie, was inspired by Michael Moore's Fahrenheit 9/11, released in the summer of 2004, and the influence that film had on the election season, as David Bossie, the president of Citizens United, wrote earlier this year. The Federal Elections Commission decided differently, that the two films were different because the latter was "electioneering."
In its decision, the Supreme Court took away the power from government to make those kind of highly subjective distinctions, freeing Michael Moore to be honest about his intents and leaving fans of works like his or John Oliver's anti-third party "electioneering" who nevertheless support a candidate who opposes Citizens United and is proud to be in favor of banning films that depict her in a negative light in an uncomfortable position if they ever thought about the consequences of their professed policy preferences on political speech. Unless they assume, as partisans on both sides often seem to, that laws restricting speech and media should only apply to those with whom they disagree, since those are the people who are wrong.
*This post has been updated to reflect responses from the Ohio Republican Party and the Midland Theater.