Sheldon Adelson And the Raiders Get Their $750 Million in Public Funding For New Las Vegas Stadium
Taxpayer subsidy for one America's richest men and one of its worst NFL franchises sneaks through Nevada legislature.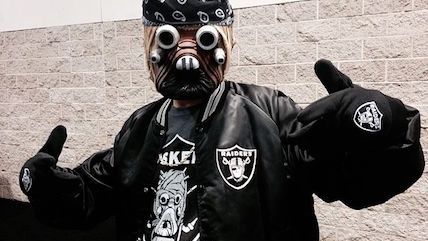 (bdearth/Wikimedia Commons)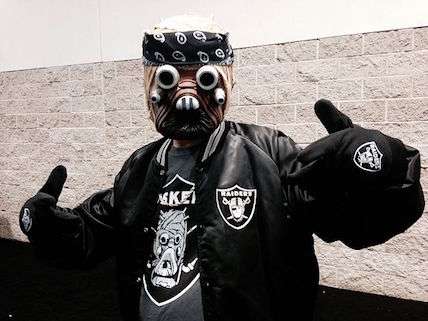 Score another one for crony capitalist boondoogles.
The Nevada legislature narrlowly approved $750 million in public financing for a new NFL stadium to be operated by Sheldon Adelson's casino corporation, Las Vegas Sands, and the NFL's Raiders, who currently call Oakland (Calif.) home. Adelson's group will contribute $650 million to the stadium (they will not be sharing profits with the public), and the Raiders will pay $500 million toward the construction of their new home field (which will not be granting free admission to Las Vegas taxpayers).
The plan was originally proposed by The Southern Nevada Tourism Infrastructure Committee (SNTIC)—a group of "key community leaders and stakeholders," a.k.a. politicians and well-connected Las Vegas businesspeople—as a means of providing economic stimulus to a city which already relies primarily on tourism and its casino businesses to stay financially solvent. Nevada's Republican Governor Brian Sandoval, who created SNTIC in 2015 and vociferously supports public financing for the new stadium, is expected to make the deal official with his signature today.
ESPN reports, "A cadre of lobbyists for the project strained over the past week to overcome conservative anxiety over a tax increase and liberal objections to subsidizing one of the world's richest men, eventually securing the bare minimum of Assembly votes to hit the required two-thirds majority." The official legislative tally was 28-13 in the state Assembly and 16-5 in the Senate in support of the stadium deal.
In its article reporting on the deal's approval, The New York Times wrote breathlessly concluded, "Laborers testified they needed the estimated 25,000 construction jobs the project would bring after the industry was devastated in the recession. The stadium is expected to bring 14,000 permanent jobs to the Las Vegas area."
Unmentioned by the Times is that nearly every publicly-subsidized stadium project promises thousands of "permanent jobs" which never come to be, nor that the public is on the hook for the $750 million whether or not the increase in Las Vegas hotel taxes raises sufficient revenue, nor that Gov. Sandoval wants over $300 million in budget cuts to offset losses from other under-performing taxes, nor the fact that no evidence exists to back up the idea that publicly-financed stadiums add any financial benefits to their communities.
Also unmentioned by the erstwhile "newspaper of record" is that Sheldon Adelson currently ranks 14th on Forbes' richest people in the U.S. list, and doesn't need to dip into the public coffers of a struggling city to get his buildings built.
Read more Reason coverage on publicly financed stadiums here, and watch a Reason TV video on the subject below.