(UPDATED) Democracy Now Host Amy Goodman Faces 'Riot' Charges For Covering North Dakota Pipeline Protests
Prosecutor argues against Goodman's First Amendment rights because she sympathized with protesters.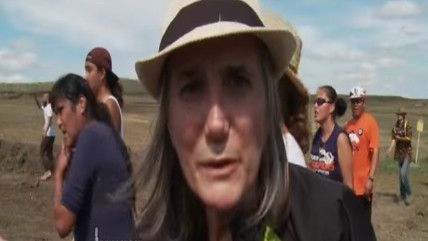 (Screenshot/Democracy Now)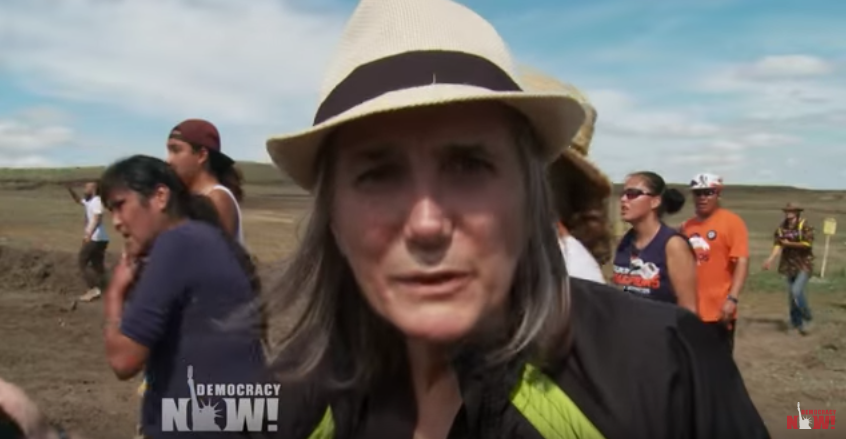 Does a journalist's point of view make them complicit in any potential crimes they report on?
North Dakota State's Attorney Ladd Erickson appears to think so, which is why after dropping criminal trespassing charges against Democracy Now host Amy Goodman, he has upgraded charges against the venerable leftist journalist to the far more serious accusation that Goodman participated in a riot when covering protests against the Dakota Access Pipeline this past September.
The protests against the pipeline took a violent turn when private security guards pepper-sprayed demonstrators and unleashed dogs on them. Goodman—who makes no secret that she's in full support of the protests—covered these incidents for Democracy Now. In Erickson's view, that forfeits her First Amendment rights as a journalist. Per the Bismarck Tribune:
"She's a protester, basically. Everything she reported on was from the position of justifying the protest actions," said Erickson, adding that her coverage of the Sept. 3 protest did not mention that people trespassed during the incident or the alleged assaults on guards.

"Is everybody that's putting out a YouTube video from down there a journalist down there, too?" he asked.
If this is all Erickson is going on for charging Goodman, he is demonstrating a frightening misunderstanding of the concept of a free press. One does not require special accreditation from the government, nor a a demonstrated "objectivity," to report on news as it happens.
Goodman's case is not the only Dakota pipeline-related arrest making news. Documentary producer Deia Schlosberg—who works with Gasland director Josh Fox—is reportedly facing felony charges for "conspiracy to commit theft of property and services" while she was covering what protesters themselves described as "sabotage" of the pipeline's emergency valves in a coordinated action earlier this month. These protesters freely admit they cut down fences, broke into valve stations, and manually shut down emergency valves. As Vice noted last year, this is a surprisingly easy but potentially dangerous thing to do (especially if caring for the environment is a concern):
The momentum of the contents in the line running into a shut valve, especially one shut very quickly, can cause major pressure build-up and that pressure could release in unpredictable ways. Yes, it is within the realm of possibility that something could burst and cause a spill. It's a pipeline, they can and do break.
On his Facebook page, Fox wrote that authorities "threw the book at Deia for being a journalist." Fox says she wasn't an active particpant in the protest, but merely covering it. It's unclear at this point what exactly Schlosberg was doing while covering the pipeline sabotage, though if the protest involved breaking and entering, trespassing, and disrupting energy infrastructure, it begs the question of whether or not the First Amendment indemnifies journalists who accompany people engaging in criminal activity.
In Goodman's case, however, it's been more than a month since the protests she covered, and Erickson has not publicly released any evidence that Goodman rioted or incited a riot or did anything other than report on the scene.
It appears the prosecutor intends to use her publicly stated point of view as evidence against her. If that's all he's got, it's a chilling affront to the concept of a free press and should not be permitted to stand.
UPDATE: The Bismarck Tribune reports Judge John Grinsteiner has dismissed all charges against Goodman.
Watch Goodman's report that has now led to charges against her below: