Seattle Light Rail Breaks Ridership Record; Still Shy of 2010 Projections
Sound Transit is using the numbers to sell voters on $54 billion in new light rail spending.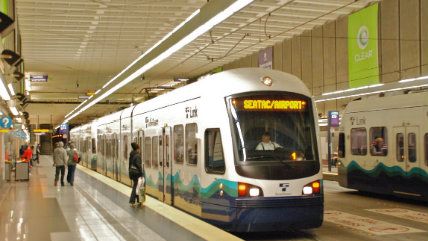 (Steve Morgan / Wikipedia)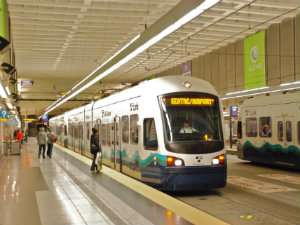 Seattle's Sound Transit authority is loudly touting the breaking of its one-day light rail ridership record on September 30th.
According to several celebratory blog posts and tweets from last Thursday, the agency's Link line broke 100,000 trips in a single day for the first time.
Campaigners for a November ballot initiative to expand the city's transit system, along with its backers in the press, were quick to hold up this stat as proof that $54 billion worth of additional light rail is both a smart and necessary investment.
James Canning, spokesman for Mass Transit Now—the official campaign for the light rail initiative—told the Seattle Times that these numbers show "there's tremendous demand for light-rail ridership. People want an alternative to having to utilize the congested highways. People are voting with their feet to ride light rail."
Meanwhile, the folks over at Seattle Transit Blog—who are also enthusiastic boosters of the light rail expansion—wrote that Sound Transit had emerged from its 100k day "showing that there's nothing like high-capacity transit to soak up enormous demand in a minimal footprint."
Perhaps this is a cause to celebrate. Providing 100,000 commuter trips in 24 hours is impressive, after all—almost as impressive as the 105,000 trips Sound Transit promised to be delivering daily on light rail by 2010.
As it stands right now—and despite spending twice as much as it estimated for the existing light rail line—the agency is nowhere near meeting its promised ridership goals. In fact, it took the perfect storm of Friday rush hour traffic, along with simultaneous University of Washington football and Seattle Mariners baseball games, to even get as close as it did. And to support the surge, Sound Transit had to work overtime with extra lines and maintenance crews.
Seattle-area voters should keep these facts in mind as they mull spending another $54 billion on more light rail. For just a third of the cost of the International Space Station, Sound Transit is promising to add about 28,000 new riders. Perhaps if the Sonics start playing in Seattle again that might come true.