Protests, Tear Gas, and Arrests As Portland Approves New Police Union Contract
After the mayor closed off city council vote to the public, chaos ensued.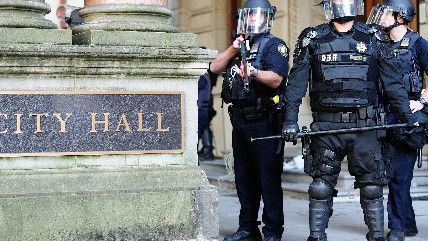 (Alex Milan Tracy/Sipa USA/Newscom)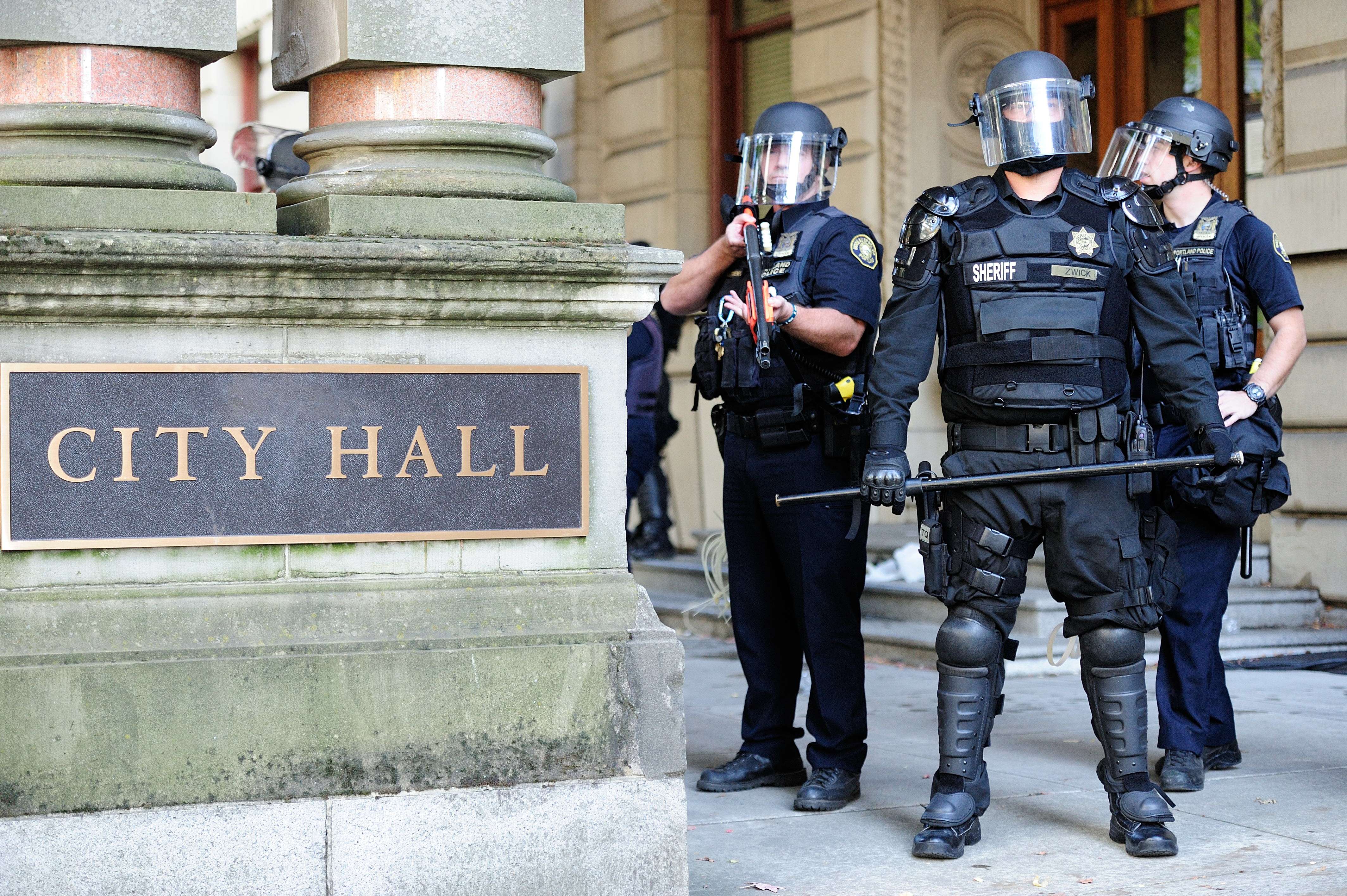 The City Council of Portland (Ore.) approved a new contract for the city's police union in a meeting that was described by The Oregonian as having taken place following "unprecedented maneuvering within City Hall to conduct the vote in [a] meeting room cordoned off from protesters."
Even though the current contract was not due to expire until June 2017, and Portland has already elected a new mayor who will take office on January 1, Mayor Charlie Hales insisted on negotiating and pushing for a vote to implement a new police contract before his term expired. Hales insisted a new contract with pay increases of over $10,000 a year for new officers and other union-favorable terms was necessary to draw new recruits to replace a number of retiring officers.
As I noted yesterday for Reason, the new contract has met with significant pushback from the community, in particular over new rules regarding the use of body cameras and the fact that the city's SWAT team will be exempt from such rules.
After the Council voted 3-1 to make the new contract official, protesters affiliated with Black Lives Matter and Don't Shoot Portland attempted to storm City Hall. Some threw "projectiles" at officers, according to Portland police officials. Ultimately, 10 protesters were arrested, but not before police used pepper spray and batons to subdue the most aggressive of the crowd. Police have also indicated they will be reviewing video footage of the protests and may make more arrests.
Video of the City Hall melee via The Oregonian below:
Once the protests had been confined to the sidewalks outside City Hall, police threatened to arrest anyone who blocked traffic or stood in the street. At one point, a group of riot gear-clad officers jumped off a rolling SUV to pull a protester out of the crowd and arrest him.
Video via KATU News below:
The Oregonian notes:
Protesters also claimed a victory of sorts, arguing the City Council's closed-door vote — broadcast online, over television screens and remotely in the City Council chambers — may help them file a complaint over a violation of public meeting laws.

"They wouldn't have gotten this passed if they did it in a democratic way," said Gregory McKelvey, spokesman for protest group Don't Shoot Portland.
More protests against the new police union contract are reportedly expected to take place this Friday.