Locker-Room Talk With The Fifth Column
Do men really "joke" like that? Are Mormons keeping America safe? Do conservatives really mean it when they complain Gary Johnson isn't libertarian enough?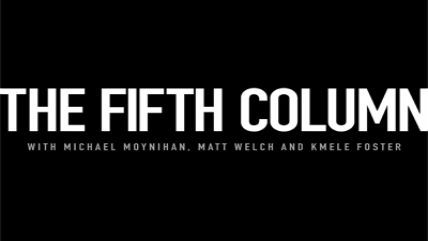 In fairness, this latest episode of The Fifth Column, the weekly three-headed podcast of "analysis, commentary, sedition," was recorded last night just as the world was discovering a rash of new sexual assault allegations against Donald Trump. So Kmele Foster's qualified defense may not be aging as well this morning….Still, we soldier on, R-rated, through the crazy political news of this week, including but not limited to Wikileaks revelations about Hillary Clinton, the Red Menace allegedly behind them, the Mormon-led GOP revolt against Donald Trump, Michael C. Moynihan's fancy new Vice News job and interviews with Glenn Beck and Evan McMullin, and the disingenuousness of some of our never-Libertarian conservative pals complaining that Gary Johnson isn't libertarian enough.
Come for the Michael McDonald impressions, stay for the Cold War onanism:
Here are the places where you can download, interact with, recommend to your friends about, and write reviews of, The Fifth Column: iTunes, Stitcher, Google Play, wethefifth.com, @wethefifth, and Facebook.