Justice Department to Charge Arizona's Sheriff Joe Arpaio for Contempt of Court Over His Immigration Law Enforcement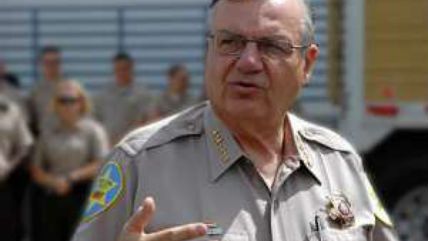 A criminal case against the notorious Joe Arpaio, sheriff of Arizona's Maricopa county, will lead to a criminal contempt charge against him, the U.S. Department of Justice announced today. The judge in the case, U.S. District Judge Susan Bolton, has demanded an official order to show cause from the DOJ, which she will have to sign for the charge to be official.
Arpaio is accused of violating an order put down by U.S. District Judge G. Murray Snow in December 2011 that was meant to force him to stop Arpaio and his law enforcement officers from enforcing federal immigration law in a discriminatory manner.
Judge Bolton wants a sentencing cap of 6 months on the charge, which would make it a misdemeanor contempt charge. That mere misdemeanor would not disqualify him necessarily from continuing as sheriff. He's running for re-election this year and recent polling hasn't looked good for him.
Details from local radio station in Arizona KTAR:
Arpaio has acknowledged violating an order from Snow but insisted it wasn't intentional.

Snow disagreed. He said Arpaio kept up the patrols, for which he is well-known around the country, in an effort to retain office during the 2012 elections…

Snow also requested criminal charges against Arpaio and his second in command, Jerry Sheridan, for withholding 50 hard drives in a secret investigation that critics say targeted Snow.

The racial profiling lawsuit that Arpaio lost more than three years ago grew into a contempt case.

Arpaio and three aides had been found in civil contempt for defying Snow's orders in a years-old racial profiling case in the spring. The sheriff's office had refused to stop targeting Latinos in patrols despite federal directives to do so.

County taxpayers have been tagged for $48 million in the profiling case and they will be forking over more: costs were expected to reach $72 million by next summer.
As J.D. Tuccille reported here last year, Arpaio has publicly admitted to being contemptuous of Judge G. Murray Snow's order that he cease certain of his immigration law enforcement practices. Lucy Steigerwald reported for us on the beginnings of the Justice Department's investigation into Arpaio's immigration law enforcement practices.