More Lives Sabotaged by National Faux-Sex-Trafficking Witch-Hunt
Prosecutors drop charges against men arrested in prostitution sting...after costing them their jobs by portraying them as sex traffickers.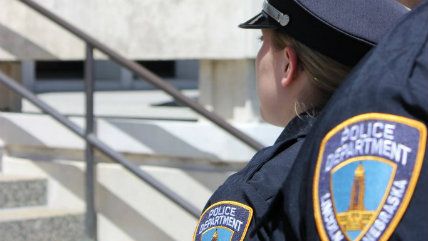 (Lincoln Police/Facebook)
"A Kearney man is no longer associated with the University of Nebraska at Kearney after being one of 12 men arrested last month in connection with sex trafficking," reported the Kearney Hub in August. That man, 42-year-old Cory Walcott, was chair of the Military Science Department at the University of Nebraska Kearney until he was busted in a highly-publicized national sting sold as way to stop child sexual exploitation.
But what was Walcott actually accused of? Answering an online ad purportedly posted by an adult woman willingly selling sex.
Walcott was originally arrested for solicitation after reaching out to the "sex worker," who was actually an undercover cop. Now, Nebraska law enforcement can't even sustain that charge. Prosecutors have now announced they are dropping the charge against Walcott and another man, Maurice Briggs, though they did not say why.
Their arrests were both part of the "National John Suppression Initiative," a series of nationwide sex stings coordinated by Cook County Sheriff Tom Dart. Every few months, police departments across the country pose undercover as either sex workers or their clients, arrest a lot of adult men and women for things like prostitution and solicitation, then put out splashy press releases about all the "sex trafficking arrests" they've made.
These coordinated efforts to entrap people around the country lead to large initial arrest-counts, ensuring them prominent placement in U.S. media. But few outlets ask questions about specific charges, merely accepting police PR that these were predators arrested and not largely adult men and women trying to have consensual sex. Nor do many folks follow up on the results of these stings. If they did, it would become clear that the "National John Suppression Initiative" has naught to do with stopping sexual exploitation of minors.
Most efforts wind up as they did in Lincoln, Nebraksa—where initial headlines about the August bust announced "12 arrested in Nebraska for sex trafficking related crimes" and "Lincoln teacher among those arrested in sex-trafficking operation." But the ultimate arrest/rescue breakdown for Lincoln?
no underage or adult sex-trafficking victims discovered
no force, fraud, or coercion discovered
four women, ages 23 to 36, charged with misdemeanor prostitution
five men charged with misdemeanor solicitation of prostitution
one man charged with felony solicitation of prostitution
one man charged with marijuana possession
charges dropped against Corey Walcott, who was arrested for solicitation of prostitution
charges dropped for Maurice Briggs, who was arrested for pandering
Like Walcott, Dwain Borchers, 58, who had been a physical education teacher at Lincoln's Northeast High School since 1993, also lost his job a result of the police sting. Borchers was charged with misdemeanor solicitation for reaching out to an undercover officer posing as an adult sex worker.