A.M. Links: Hurricane Matthew Heading for Florida, Clinton vs. Trump, Abortion Ban Rejected in Poland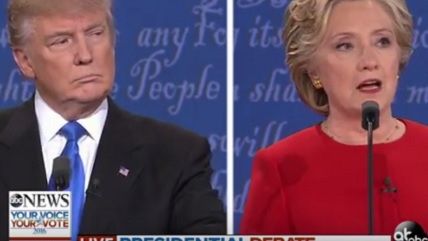 ABC / YouTube

How Hillary Clinton and Donald Trump are preparing for Sunday night's presidential debate.

Hurricane Matthew is expected to hit Florida tonight.
Palestinian President Mahmoud Abbas has been hospitalized and is undergoing heart tests.
President Barack Obama's approval rating currently stands at 55 percent, a high for his second term.
"A tip from a prison guard has yielded the single largest federal case in Maryland's history: 80 people including corrections officers, inmates and "outside facilitators" have been charged with orchestrating a vast contraband smuggling enterprise that traded drugs, tobacco and cellphones to prisoners for money and sex."
Lawmakers in Poland have rejected a total ban on abortion in that country.
Follow us on Facebook and Twitter, and don't forget to sign up for Reason's daily updates for more content.