Al Gore to Campaign For Hillary Clinton, Police Officers Attacked in Brussels, Protests Over Land in Ethiopia: P.M. Links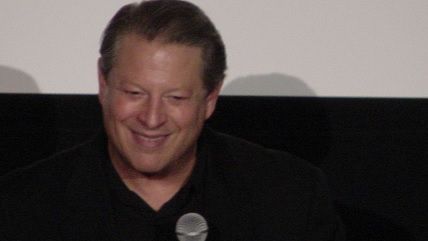 Kier Duros/flickr

Al Gore will reportedly be hitting the campaign trail for Hillary Clinton. A new Massachusetts poll shows William Weld just three points behind Elizabeth Warren in a hypothetical 2018 matchup. A float in a farmer's fair parade in Indiana depicted Donald Trump executing Clinton.

The FBI secretly arrested a contractor at the National Security Agency several weeks ago on allegations of stealing classified codes.
Relations between the U.S. and Russia are at their lowest point since the 1970s.
Two police officers in Brussels were stabbed in what prosecutors say they have reason to believe was a "terrorist attack."
Demonstrators in Ethiopia destroyed a foreign-owned textile company while protesting and rioting over land seizures.
Hurricane Matthew could make landfall in Florida as early as Friday morning.
Three chemists were awarded the Nobel Prize in chemistry for their work on molecular mechanics.