Libertarian Party Senate Candidate in Florida Might Meet the Stated Criteria to Get Into Televised October Candidate Debate
Some ambiguity about allowed margin of error remains to be settled.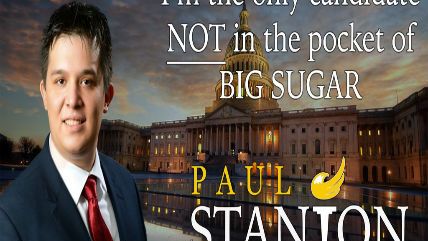 Paul Stanton, the Libertarian Party's candidate for Senate in Florida, seems to meet the stated criteria to be included in a televised debate with incumbent Republican Marco Rubio and Democratic challenger Patrick Murphy, with the results of a new poll released today by Public Policy Polling, according to a press release from his campaign.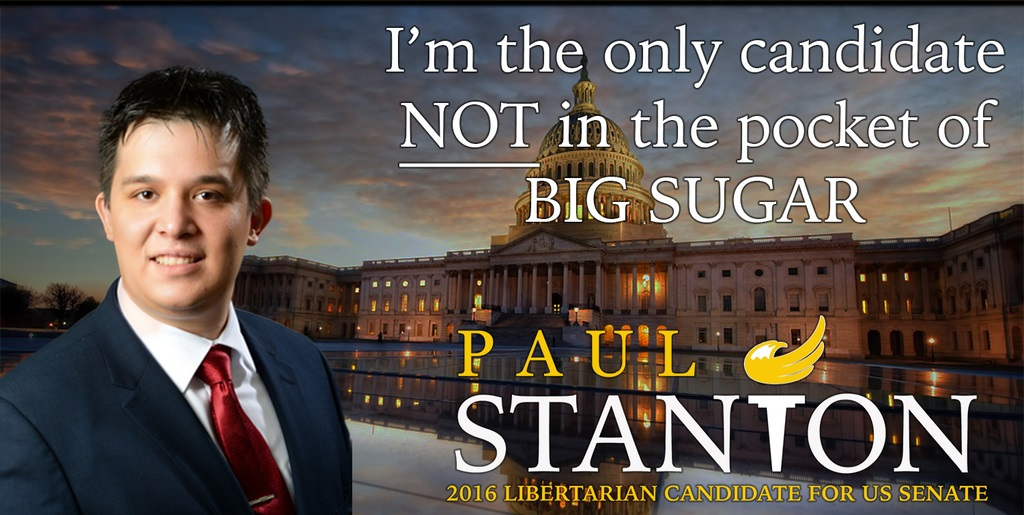 The poll (which Rubio leads, with 42 percent) has Stanton at 9 percent (with 15 percent undecided).
Leadership Florida and the Florida Press Association are co-hosting on October 26 a one-hour debate that Rubio and Murphy are already committed to. It will be aired live in 11 different Florida markets and on Florida Public Radio and will be held at Broward College in Davie, FL.
The publicly stated criteria for candidates to be invited says that:
A qualifying candidate must have at least 12.5% support (including the full benefit of a 3.5% +/- margin of error based on a sample size of 815 among all likely voters who will participate in the general election as determined by a poll conducted by a credible and reputable independent poll as to be determined exclusively by the Debate Partners (see 1.F.).

Such poll shall be conducted, completed and in the possession of the Debate Partners between September 1, 2016 and September 30, 2016.By way of example, if a poll shows a candidate receiving 10% support among all registered voters, and the poll's margin of error is 3.5%, the candidate's support, including the full benefit of the margin of error, is 13.5%.
Now, there is ambiguity in the above when applied to today's poll.
The first sentence's parenthetical implies the debate hosts themselves are giving a 3.5 margin of error, while the later sentence seems to qualify that if the poll itself has one, it shall be fully applied.
This is important because the actual stated margin of error in today's PPP poll is 3.4. If he's held to that standard, he's one-tenth of a percentage point down in this poll even with full benefit of the margin of error. If he is getting the full benefit of 3.5 regardless, then he's in.
More maddeningly, another PPP poll released on September 7 shows Stanton at 10 percent with a stated 3.6 margin of error. That would make him a shoe-in, except that the number polled was 744, under the stated 815 qualification.
The campaign feels that, since the polled number in the PPP is 826, more than the required 815, and considering the language about "including the full benefit of a 3.5" percent margin of error, they should qualify.
Campaign media director Brian McLauglin says the campaign has reached out to officials with the organization running the debate but have not yet gotten an official invitation or confirmation (or denial) that indeed Stanton is considered to qualify. I was unable to reach a media spokesperson for the event organizers this afternoon. I will update this post when the question of Stanton's qualification is settled.
Other interesting aspects of today's poll: Stanton is polling far higher in Florida than the national presidential ticket; Gary Johnson is polling at only 3 percent in this particular poll.
And despite Marco Rubio's initial promise as the guy who would win Hispanics back to the GOP, Stanton's polled Hispanic support is double his overall statewide polled support, at 18 percent. Rubio is only 12 percentage points ahead of Libertarian Stanton with polled Florida Hispanics, with 30.
Stanton is pulling 15 percent of independents, and a whopping 19 percent of 18-29-year-olds, according to PPP today.
For those who remember a previous contender for the L.P.'s Florida Senate nod, the controversial Augustus Sol Invictus, Paul Stanton, who won the primary, is a different person entirely.