Republican Senators (Including Mike Lee) Again Attempt to Blockade Online Gambling
Bill would subvert legal interpretation of Wire Act.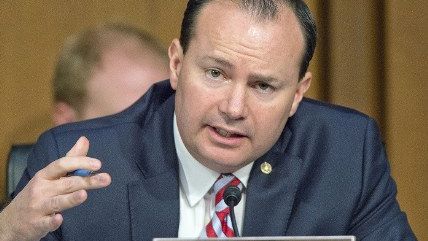 (Ron Sachs/CNP/AdMedia/SIPA/Newscom)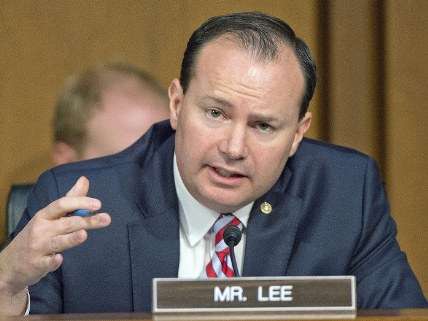 What do a couple of the least libertarian Senate Republicans in office, Lindsey Graham of South Carolina and Tom Cotton of Arkansas, have in common with libertarian-leaning GOP conservative Sen. Mike Lee of Utah?
All three of them are down on the idea of unfettered gambling on the Internet, and the day after casino magnate Sheldon Adelson gave $20 million to a Super PAC that helps Senate Republican races, the three of have revived legislation to try to ban it.
The proposed legislation is remarkably short. The actual text of the bill is about as long as its title. We might as well excerpt the whole thing:
To ensure the integrity of laws enacted to prevent the use of financial instruments for funding or operating online casinos are not undermined by legal opinions not carrying the force of law issued by Federal Government lawyers.

Be it enacted by the Senate and House of Representatives of the United States of America in Congress assembled,

SECTION 1. REAFFIRMATION OF PROHIBITION ON FUNDING OF UNLAWFUL INTERNET GAMBLING.

The Memorandum Opinion for the Assistant Attorney General of the Criminal Division of the Department of Justice, dated September 20, 2011, shall have no force or effect for the purposes of interpreting section 5362(10) of title 31, United States Code.
Interesting how a bill doesn't have to be wordy to be incomprehensible. To explain, the "opinion" being referenced in this text is a recent legal interpretation of the 1961 federal Wire Act—which bans interstate sports betting—that has determined that the Act does not actually ban other types of internet gambling on the federal level. Thus states have authority to decide for themselves whether to allow it.
And so some states, like Nevada, legalized online poker in a very, very limited fashion. The growth of online gambling presents a massive threat to the bottom line of brick-and-mortar casino magnates like Adelson (though some other casinos are embracing online betting). So, much like a restaurant owner trying to convince a city council to ban food trucks, Adelson has committed a ton of money to try to fight internet gambling. This bill would be an attempt to legislatively overrule the Justice Department's interpretation of the law.
Despite Lee's libertarian leanings, this opposition to Internet gambling is not new, and it's unlikely that Adelson's support influenced in position. He has previously attempted to pass legislation to undo the Justice Department's interpretation of the law. In an interview with Reason in 2014 he explained that because internet gambling crosses state borders, it is appropriate for the federal government to play a role in defining the rules. In particular, he thinks federal regulation needs to be set up specifically so that people can't use the internet to bypass their home state's own laws or restrictions:
[T]his is actually a necessary step to take to respect each state's right to decide whether or to what extent to allow gambling and that's necessary in order to preserve each state's right to decide. Otherwise, you could have one state here or there authorizing gambling and if no one is able to prohibit Internet gambling, then people in every state would be able to gamble.
In May, Veronique de Rugy broke down the intense crony protectionism undergirding attempts to ban online gambling. Read more here.