Police in El Cajon Simultaneously Tase and Shoot Man Who Was Acting 'Erratically'
Sister called police on her brother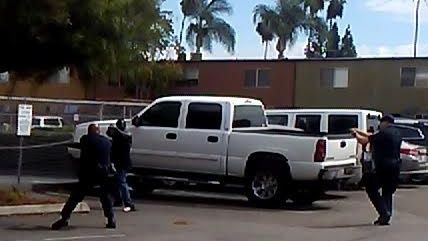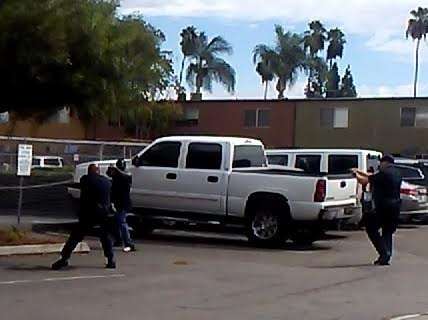 The sister of a man in El Cajon, California, called police on her brother, who was acting "erratically" and who police say was walking in traffic, endangering himself and others, and eventually he was tased by one officer at the same time as being shot by another after pulling his hands out of his pocket and, according to police, appearing to place them together and point them at a cop as if he had a gun. The man died in hospital.
Police said in a statement released to multiple news outlets including Reason that the man did not comply with orders from an officer to take his hands out of his pockets when they arrived, so the officer drew his firearm and pointed it at the man. A second responding officer arrived, according to the statement, and "immediately prepared to deploy a less lethal electronic control device while the other officer covered."
Multiple witnesses told NBC 7 that the man, Alfred Olango, had his hands up when he was shot, but police released a frame from a video of the shooting showing the man holding his hands together and pointing them at an officer who had his weapon pointed at him (picture on the right). It appears police were aware they were responding to a call about a mentally disturbed man, but did not arrive with the Psychiatric Emergency Response Team. Witnesses also said Olango was unarmed.
One witness who worked at a nearby restaurant also told NBC 7 that police confiscated phones from her co-workers, but police say they are in possession of just one cellphone, and that the owner of the phone gave it to them voluntarily after telling them it contained footage of the shooting. The witness also claimed police told them not to talk to anyone.
Olango's sister is seen on another video crying. "Why couldn't you guys tase him? Why, why, why, why?" she asked officers on the scene. "I called so many times to help him."
Police say the two officers are administrative leave, which is standard procedure after "critical incidents," and that "a complete and thorough investigation will be completed." Police also called in the district attorney's office to investigate.
The city purchased body cameras in May but police chief says he hopes the cameras will be deployed by next year.