Gary Johnson Getting Nearly as Many LGBT Voters as Trump
Clinton is still the heavy favorite.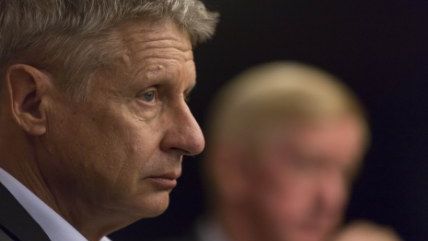 (Paul Gordon/ZUMA Press/Newscom)
A new poll has Hillary Clinton dominating Donald Trump with registered gay, lesbian, bisexual, and transgender voters. This is not terribly surprising news. But both Libertarian Party candidate Gary Johnson and Green Party candidate Jill Stein are drawing some notable numbers from the LGBT community.
NBC partnered with Survey Monkey to track likely voters for two weeks in September. In a head-to-head matchup between Clinton and Trump, Clinton won overwhelmingly, 72 percent to 20 percent. Those numbers are generally comparable to the split in the LGBT vote in previous elections.
But the poll also evaluated a four-way matchup. There, both Clinton's and Trump's numbers dropped. Clinton would beat Trump for the LGBT vote, 63 percent to 15 percent. Johnson would get 13 percent of the LGBT vote and Stein would get 8 percent. So the third-party candidates are pulling 9 percentage points worth of LGBT votes from Clinton and 5 percentage points from Trump. And given that the head-to-head matchup shows an 8 percent either undecided or declining to say, it's safe to say that there's a good number of LGBT voters unhappy with their major party choices.

By and large, though, the poll also shows that LGBT voters view Clinton much more positively than the general public. Among those polled, 59 percent view Clinton positively. Her popularity numbers when comparing the LGBT community to the general community are essentially reversed. Trump's favorability rating is even worse among LGBT voters than it is among the general public. Only 17 percent of LGBT voters view Trump favorably.
Trump's unpopularity with the LGBT community should be seen as rather striking, given that he's less openly hostile on gay issues than previous Republican candidates. But policy-wise, he's extremely unpredictable. He has taken both sides on the debate over whether North Carolina can ban transgender people from using the school or government bathrooms and other facilities of their choice. He has, as the election gone on, essentially taken every Republican position, including opposition to the legal recognition of gay marriage.
Clinton, meanwhile has promised the LGBT community anything any activist group has asked for, a host of new federal laws and regulations to protect them, and just about anything at all to get the gay vote.
But clearly a good chunk of LGBT voters are thinking beyond gay issues, which is not unusual. What is unusual is that these third-party candidates are siphoning off such large numbers. According to the poll, 70 percent of the LGBT voters who responded identify as Democrats or lean Democrat. That means Clinton is losing seven percentage points from LGBT voters within her party when Johnson and Stein are offered.
The LGBT voting community is not large. They accounted for seven percent of this total voting sample. But given how close the polls are now, that's enough to swing an election outcome.