America's Proxy War in Yemen
Still being largely ignored.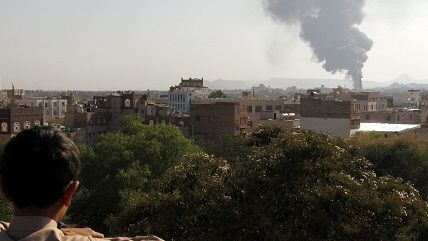 (YAHYA ARHAB/EPA/Newscom)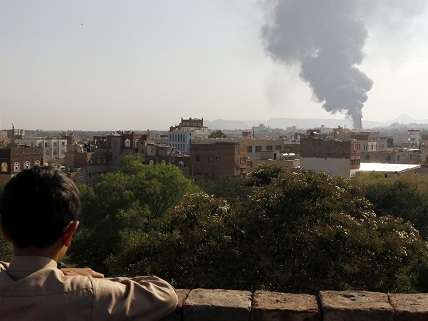 The Senate blocked an effort by Sens. Rand Paul (R-Ky.) and Chris Murphy (D-Ct.) to nix a $1.5 billion arms sale to Saudi Arabia, which is engaged in a war of choice in Yemen, where the U.S.- and Saudi-backed government was overthrown by Iranian-backed rebels in 2014. Al-Monitor described the vote (71-27 to dismiss the measure) as the Senate "in effect casting the first vote on US participation after 18 months of war in Yemen."
Even if Paul's measure had passed both houses of Congress, it's unlikely there would be enough support to override the president's veto. And the Obama administration has completed more than $100 billion in arms sales to Saudi Arabia so far.
In The Atlantic, Samuel Oakford and Peter Salisbury call Yemen the "graveyard of the Obama doctrine," noting U.S. involvement in the proxy war contradicted rhetoric the president deployed at the United Nations this month, where he bemoaned proxy wars as one of the factors preventing conflict resolution in the Middle East. "No external power is going to be able to force different religious communities or ethnic communities to co-exist for long," the president told a gathering of world leaders at the U.N. this month.
Yemen used to be one of Obama's vaunted success stories. Two short years ago the White House was pointing to it as a model of success in the war on terror. Who knew launching drone strikes based on information fed to the U.S. by a long-time dictator would help destabilize the country and encourage a rebellion that would ultimately be successful?
As Trevor Thrall and John Glaser argued here at Reason earlier this year, U.S. support of Saudi Arabia has enabled Saudi ruthlessness in Yemen. The proxy war, they argued, "compromises both U.S. interests and its moral standing" by expanding a power vacuum that benefits Al-Qaeda in the Arabian Peninsula, the initial impetus for U.S. bombing campaigns in Yemen and which opposes the Houthi rebels. A Dutch attempt to get a United Nations inquiry into human rights violations and other war crimes in Yemen was blocked at the European Union last week by the United Kingdom.