Libertarian Optimism: Nick Gillespie Talks With Ben Kissel on Lincoln's Top Hat
If you're under 50 and worried about the 2016 election, automation, and your future, listen up!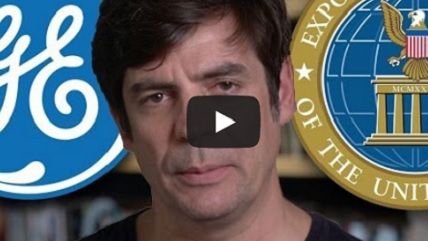 Last week, I taped a conversation with Ben Kissel, who writes for Fox News' Red Eye with Tom Shillue and hosts a number of podcasts, including the thrilling, chilling, and wildly popular Last Podcast on the Left, which "covers all the horrors our world has to offer both imagined and real, from demons and slashers to cults and serial killers." Glad to say that I wasn't on that one (yet, at least).
The libertarianish millennial taped me for Abe Lincoln's Top Hat (that's an iTunes link), which is devoted to "Politics! We know you love them just as much as we do. Join comedian Ben Kissel and radio man Marcus Parks each week as they discus what's going on in politics and the world of social issues." In 45 minutes, we covered a lot of ground, including whether robots will take whatever jobs the Mexicans have left for Americans, why the Democrats and Republicans have rigged the presidential debates so nobody else gets on the stage with them, and if millennials really are getting screwed by ageing baby boomers. Throughout it all, I'm damned optimistic and try, mostly unsuccessfully, to cheer up Kissel and all listeners below the age of 60.
Here's a Soundcloud version. Just click to play.
And while we're talking podcasts, take a minute to check out Reason's new-and-improved iTunes feeds. We've got audio and video streams running cleaner than a mountain stream up at iTunes. Go here for the audio and here for the video. And don't be shy about rating and reviewing our offerings. We value your feedback (good, bad, and ugly) and the more information we get from you, the better our videos and podcasts will be.
If you prefer Soundcloud, here you go. For more details and links to RSS feeds, go here.
And go here to subscribe to The Fifth Column, the weekly podcast Matt Welch does with former Reason staffer (now at Vice) Michael Moynihan and FreeThink Media's Kmele Foster.