The NCAA and the ACC Oppose Discrimination, Sometimes
Say they are opposed to all forms of discrimination but that's not exactly true.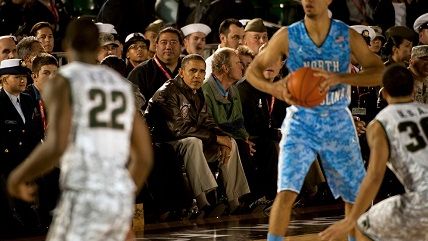 There was something very weird about the decisions by the NCAA and the ACC to pull a number of championship events out of North Carolina. The organizations did so to protest the infamous House Bill 2, which forbids localities to enact equal-protection measures for LGBTQ people and requires transgender individuals to use restrooms that align with their anatomical sex, not their gender identity.
The organizations did not want to lend even tacit consent to prejudice. As ACC Commissioner John Swofford put it, "the ACC Council of Presidents made it clear that the core values of this league are of the utmost importance, and the opposition to any form of discrimination is paramount. Today's decision is one of principle."
This is commendable, for all the reasons House Bill 2 is not. Targeting transgender people in particular for state-sponsored discrimination is an ignoble enterprise based on ignorance, fear, and disgust. Transgender people do not go down their road lightly; for some the path is so harrowing suicide seems less painful. Treating them with a little respect and common decency hardly seems too much to ask.
Still, the coverage of the moves by the athletic bodies was occasionally surreal. Here, for instance, is The New York Times: "Already, the University of Vermont had canceled a women's basketball game to be held at the University of North Carolina, and the State University of New York at Albany had canceled a men's basketball game at Duke. In addition to men's basketball, the affected championships are for women's soccer, women's golf and women's lacrosse in Division I; baseball in Division II; and men's and women's soccer in Division III."
Notice anything odd? You should: To protest discrimination, athletic organizations are pulling events that are strictly segregated. The irony is all the richer for the fact that the discrimination being protested—discrimination on the basis of gender identity—is the very sort of discrimination that occurs when schools field separate teams for men and women.
If "opposition to any form of discrimination is paramount," then why do the ACC and the NCAA abide a college-sports system that separates players by sex?
Sure, society has reasons for the distinction. For instance, having separate teams for men and women provides opportunity for twice as many people to play. But that's not much of a reason, is it? We could increase the number of players even more if schools further divided teams by race, so that schools competed for the white male basketball championship, the white female basketball championship, the Asian male basketball championship, the Asian female basketball championship, and so on. Nobody thinks that is a good idea.
Another argument: The average male has more upper-body strength than the agverage female. So what? Sports teams don't field average players—they field extraordinary ones. Two extraordinary women recently graduated from the Army's Ranger course; why shouldn't extraordinary women be permitted to play on men's sports teams, too? A league opposed to "any form of discrimination" should be pushing for—in fact, demanding—such a change, shouldn't it?
If you have what you think are valid reasons for separating teams by gender, then you are essentially making the point that some values outweigh the principle of nondiscrimination. But then, supporters of House Bill 2 make the same point: Some things matter more. Once you concede some things matters more, you're simply haggling over details.
Gender is hardly the only area in which discrimination is still widely practiced. At the University of Virginia, certain scholarships are limited to African-American students. Georgia Tech has a scholarship exclusively for male students, and another that grants preference to women and minorities. You can find many similar scholarships all across the country.
What's more, most colleges and universities support racial preferences in college admissions—and some of them, such as Duke, filed an amicus brief with the Supreme Court to defend them from constitutional challenge last year. Many schools also practice discrimination by giving preferential treatment to "legacies"—the children of previous graduates. The NCAA and ACC seem perfectly fine with all of that.
You can argue—many people do—that exclusive scholarships and racial preferences in college admissions serve important social objectives, such as ameliorating the effects of historic injustices and providing a counterweight to contemporary bigotry. You also can argue—most people would—that those objectives make much better reasons for discriminating than the reasons that animate House Bill 2.
It's a fair point. But put less gently, it amounts to saying that some kinds of discrimination are better than others. And that is a far different position than opposing all forms of discrimination as a matter of basic principle.
Perhaps a far less righteous one, too.