Everything's Bigger in Texas, Including Insane Spending on High School Football Stadiums
Taxpayers support spending $70 million on a little-used stadium, but remain clueless to the lack of economic benefit.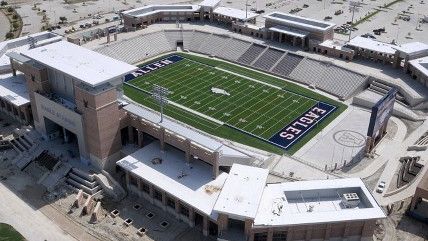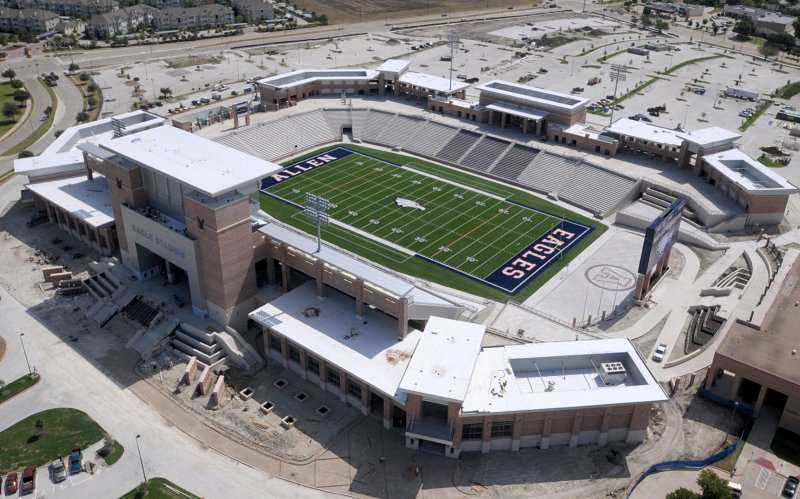 Texas's McKinney Independent School District is spending upwards of $70 million on a new high school football stadium, in part because of a sense of competition with nearby Allen High School—which already boasts a slightly more modestly-priced $60 million stadium with a capacity of 18,000 (about the same as Madison Square Garden).
Both public expenditures are popular in their respective communities, and in the case of McKinney, part of a larger public works bond package overwhelmingly approved by voters. And if a well-off suburb such as McKinney—which boasts a median household income of $83,000, according to the Los Angeles Times—wants to show off its civic pride by building a stadium which will be used once a week for four months out of the year, at least one could argue that the local government was doing the bidding of the people.
High school football fans might be legion in Texas, but like all supporters of publicly-financed stadiums, a good amount of wishful thinking regarding the overall economic benefit of a sports stadium to the community is required.
Liz Strand-Cimini, a McKinney citizens advisory committee member arguing in favor of the new stadium, was quoted in Community Impact as saying, "folks who are coming to choose a quality school district for their children are drawn to these shinier objects in our neighboring cities. We don't have that here; we should have that here, and we can have that here."
Jason Burress, a McKinney Economic Development Corp. board member countered, "What I hear more than anything else is that shopping, a solid restaurant base, a city with a good walkability, good schools, where it's easy to get around traffic-wise, anywhere you have a good quality of life or you have a good base of employment talent, those are the things that bring in economic development." Mike Giles, of the Grassroots McKinney political action committee, lamented to Community Impact that despite the wealth and increasing population of McKinney, the town has "no plans for any new high school for the next 10 years."
Watch Reason TV's doc on the insanity of public investments in sports stadiums below: