A.M. Links: George H.W. Bush Reportedly Voting for Hillary, Latest on NY/NJ Bombing Suspect, French Arrest 8 in Connection with Truck Attack in Nice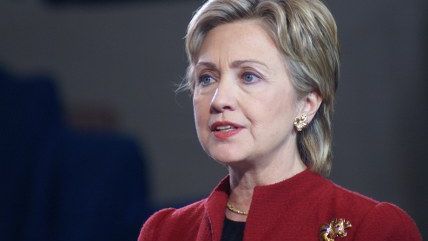 State Department

According to reports, former president George H.W. Bush is planning to vote for Hillary Clinton.

Gary Johnson: The Commission on Presidential Debates "may have excluded us from the first debate, but we can still get on the stage in October."
What we know so far about bombing suspect Ahmad Khan Rahami.
The United Nations is suspending its aid operations in Syria after after the bombing of a U.N. aid convoy and warehouse in Aleppo.
Authorities in France have made eight new arrests in connection with the truck attack that killed 86 people at a Bastille Day celebration in Nice.
"New Jersey Gov. Chris Christie knew about the September 2013 lane closures at the George Washington Bridge while they were going on, federal prosecutors alleged in court Monday during the opening statements for their case against two former Christie confidantes."
Follow us on Facebook and Twitter, and don't forget to sign up for Reason's daily updates for more content.