Bill Weld: Carl Bernstein's Speculation That I Will Drop Out to Help Hillary Clinton Is 'Wishful Thinking' (UPDATED)
"Under no circumstances will our energies be diverted from our goal of winning the election," Weld says in response to Watergate journalist's suggestion that he might bolt.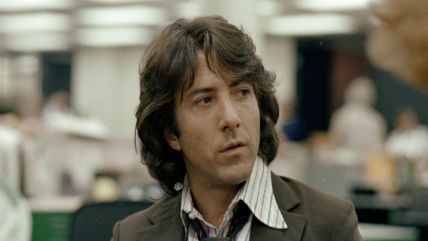 On Friday, legendary Watergate investigative journalist Carl Bernstein broke a six-week Twitter silence to say this:
Bill Weld could be a hero–instead of a Nader–if he renounces his own Libertarian candidacy and endorses/campaigns for HRC. Stay tuned.

— Carl Bernstein (@carlbernstein) September 17, 2016
Bernstein, whose last book was 2007's A Woman in Charge: The Life of Hillary Rodham Clinton, did not clarify whether his "Stay tuned" advice was to await his further reporting on the matter, or to collectively see whether his hunch turns out to be true, or just to keep the television on for upcoming cable news appearances. The latter theory looks more likely after Bernstein's double-dip this weekend on CNN, beginning with this interview by Don Lemon last night, in which the only insider information the investigative journalist shares is that he's known Bill Weld "for a long time." Aside from that, it's mostly a speculative warning from a Clinton-centric point of view. Excerpt:
I know how much he despises Donald Trump. He worked with Hillary Clinton on the impeachment committee of Richard Nixon, he's known her for many years, he has respect for her. Weld says he got into this race as a real alternative. He no longer is a real alternative, and I believe that there could be some pressure brought on him to say "To hell with this Libertarian stuff right now, that's another day to fight for Libertarianism. Right now we have to keep Donald Trump out of the White House." And I think he might do it, he might campaign for her, he might go out and talk to these Millennials who indeed are peeling away from Hillary Clinton in a dangerous way […]

Look, Bill Weld does not want to be Ralph Nader, and help elect a president of the United States such as Nader did in Florida in the case of George Bush. There's a real underlying story here, and I think in the next few days we're gonna have a chance to look at it. The other thing is, Weld by now must have a pretty good idea that he is running on a ticket headed by a flake. Let's really talk about Mr. "Where is Aleppo" who's really in this race partly to advance a marijuana initiative as much as anything else. And he's taking time off from marijuana during the campaign, he says, and he's not gonna take too many tokes during the campaign. This is a bit of a joke at this point, and I think if Weld is smart he might get the hell out. And he could be a hero in this—and look, Bill Weld would like to be a hero, he would like to be relevant again in the political discourse. He's certainly not relevant in a positive way where he is right now, and I would look to some real thought of him renouncing the Libertarian candidacy that his represented by himself and get off the ticket.
That sounds a lot more like someone trying to pressure Bill Weld than someone who has knowledge that Bill Weld is about to yield to pressure. Yet here was Bernstein on this morning's Reliable Sources*:
I was the one that first reported, I think, that Bill Weld, I believe, is thinking about dropping out of this race if it looks like he and Gary Johnson might get Donald Trump elected. Weld despises Trump. It's a big story. I don't think he's made up his mind to drop out, but I think it's certainly a possibility down towards and after the first debate, if it looks like his candidacy would help Trump, and that he would then renounce his candidacy and go out and help Hillary Clinton, who he served with on the impeachment committee of Richard Nixon. So stay tuned on that.
Sounds serious, right? Er, signs point to no. Weld released the following statement this afternoon**:
I strongly believe that our Libertarian ticket of two former two-term Governors, fiscally responsible and socially inclusive, is the best bet for America in this year's election.

Gary Johnson and I will campaign with all our strength to make that case to the American people from now until November 8th. Under no circumstances will our energies be diverted from our goal of winning the election and serving our country.
And in a comment to CNN, Weld attributed Bernstein's remarks to "wishful thinking on the part of the two-party duopoly."
Libertarian Party National Committee Chair Nicholas Sarwark did not seem too worried about the prospects of a defecting Weld this morning:
It's kind to help the elderly learn new technology.
Can someone show @carlbernstein how to delete his account? https://t.co/HCR4YJHGb9

— Nicholas Sarwark (@nsarwark) September 18, 2016
Via DM, Sarwark told me that Weld's performance at a big L.P. rally in Seattle last night "was not one of a guy considering dropping out," and added: "I don't know which explanation is sadder: that a once respected journalist is reduced to making up stories to sell his book or that a Presidential candidate has to use her biographer to attack Gary Johnson because she's afraid to do it herself."
In several interviews with Reason throughout the summer, Weld has been critical of Gary Johnson's three-word description of Clinton on CNN as a "wonderful public servant." When I interviewed the ticket at FreedomFest in July, here's how Weld put it:
There are a couple of answers I have given in the media appearances that we've done that I would like to have back. And they were, you know, "If you guys don't win," you know, "would you vote for Trump or Mrs. Clinton?" And I've sort of come pretty close to saying Mrs. Clinton. As a matter of fact, in the CNN one, I think I did. As we've gone along, I think Gary and I have gotten more and more in the frame of mind not only are we in this because we think we have a chance to win, but we can see the path now. So, all I'm thinking about now is winning the whole shooting match, and if I got that question now, the next time I get that question, I'm going to be smart enough and disciplined enough to give the answer that Gary has always given, which is, "Look, I don't know. There's going to be a Libertarian on the ballot, and I'm voting Libertarian, and I'm not going to lose any sleep over that." […]

That's a very tactful way of me saying maybe Gary would like to have back those three little words, "wonderful public servant."
Bill Weld has been a controversial pick among Libertarians, barely squeaking by on the second ballot at the Libertarian National Convention. But as odd and/or not-particularly-libertarian Weld has seemed at times during the campaign, I would be flabbergasted if Bernstein's speculation proved remotely true. The would-be veep's critiques of Clinton have gotten more pointed with each passing day, and nothing about running as a third-party outsider makes you one iota fonder of the power-mad duopoly. I think Bernstein's full of hot air.
Meanwhile, the Libertarian ticket will be interviewed by Steve Kroft on tonight's 60 Minutes at 7:30 ET. Read about that and watch a preview here.
* Updated to include transcript of interview.
** Updated to include Weld's full statement.