As Marijuana Prohibition Winds Down, What Will Control Freaks Ban Next?
It isn't enough to end just one restrictive law, we have to disempower the prohibitionists.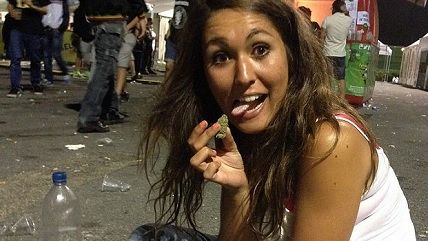 (Cannabis Culture/flickr)
Marijuana "does not meet the criteria for currently accepted medical use in treatment in the United States, there is a lack of accepted safety for its use under medical supervision, and it has a high potential for abuse," the Drug Enforcement Administration sniffed in an August public announcement refusing to consider easing restrictions on the stuff. The announcement seemed to deliberately miss the point since a majority of Americans favor legalizing marijuana for fun, not just medicine. That the feds are fighting a rear-guard action on the issue is apparent from the fact that half the states in the country are currently ignoring D.C. on the issue, legalizing the sale and use of marijuana for recreation or sometimes broadly defined medicinal purposes. Arizona and California, at least, look poised to further loosen the law in November, with others to follow.
But as marijuana prohibition falls, the drug cops have a backup plan. Just weeks after the marijuana announcement, the federal regulator of stuff that makes us feel good "announced its intention to place the active materials in the kratom plant into Schedule I of the Controlled Substances Act in order to avoid an imminent hazard to public safety." The original sin of the Southeast Asia-sourced plant is "its ability to produce opioid-like effects and [that it] is often marketed as a legal alternative to controlled substances."
Which makes the stuff a potentially handy reefer madness substitute if you need a new drug to stand in for a relegalizing old one as you try to justify the continued funding of an expensive and potent federal agency. After all, that agency is staffed by well-paid employees who've come to enjoy using the intrusive powers and dangerous toys they've been given to satisfy the whims of the moral scolds in our midst.
We've been down this path before. As Prohibition, America's first national effort to penalize people for taking pleasure in imbibing psychoactive substances, became increasingly unpopular and widely flouted at the end of the 1920s, an assistant commissioner for the United States Bureau of Prohibition cooked up a successor project. Harry Anslinger left his old gig and took on the role of commissioner of the new Federal Bureau of Narcotics—a predecessor agency to the DEA—and helped launch the national crusade against marijuana. It was a newly demonized intoxicant to give purpose to the power and personnel that had been assembled for the faltering crusade against booze.
"This propitious marriage of state power and moral suasion would yield a dramatic expansion of federal policing and an increase of state and local policing in the quasi-military sphere of crime control," Harvard historian Lisa McGirr writes in her 2015 book, The War on Alcohol: Prohibition and the Rise of the American State.
"The war on alcohol and the war on drugs were symbiotic campaigns," McGirr told Reason in an interview. "Those two campaigns emerged together, [and] they had the same shared…logic. Many of the same individuals were involved in both campaigns."
McGirr sees the "federal penal state" of intrusive policing and mass incarceration that arose during Prohibition as the result of the combined efforts of old-time religious scolds who disapproved of alcohol use and Progressives who were eager to use state power to address what they saw as social ills. Together they nationalized what had traditionally been an individual, local, or state concern, gave the government unprecedented power to regulate people's lives, and escalated their efforts as people refused to submit.
But even as it was a consequence of growing state power, Prohibition also helped to normalize the idea that the federal government could and should boss us around.
"Faced with the unintended consequences of Prohibition, many men and women began to rethink their commitments to the war on alcohol, but they did not altogether reject the state's right to police and punish the use of other recreational narcotics," McGirr adds in her book.
People also grew accustomed to an activist and intrusive state overall, paving the way for the New Deal and the regulatory state of today. A massive government apparatus, once created, can be used for any purpose its masters desire. "War is the health of the state," Randolph Bourne famously noted. But war doesn't necessarily require ships and planes launched against other nations; it can be waged against a government's own people by police who are empowered by the law to see enemies behind every door.
Then as now, the law was unevenly enforced. If you were a New York socialite during Prohibition, you could continue to drink illicit booze at parties or in speakeasies in relative safety since you weren't considered part of a "problem" population and could push back against authorities—urban ethnics were deliberately targeted for harsher treatment when they broke the law, as were rural blacks. Likewise, Malia Obama was at little risk of more than a parental tongue-lashing when she was caught smoking a joint last month while young people—African-Americans, in particular–whose fathers don't reside in the White House often suffer nastier consequences in the absence of helpful political connections.
Even for booze, the double standard for enforcement remains. While mayor of New York City, national nanny Michael Bloomberg ceaselessly sought to mold and scold his own suffering subjects as he broke the law himself to quaff wine in public. "They were behaving," he said of his friends who were given a pass by police. He's not one of those people, you know, and so he and his buddies shouldn't have to obey rules meant to rein in "problem" groups.
So the desire to control remains in place, nurtured by policy-makers and their supporters who never intend themselves to be the target of enforcement. That desire remains even as public pushback causes yet another prohibition to stumble and fall. Prohibition has its own logic—of control and power—that has very little to do with the specific prohibition at any given moment. Those who would mold the world to suit their vision see no reason to back off their efforts, they've created a vast bureaucracy of enforcers who make their living pushing us around, and they've accustomed us to a state that pokes and prods us at every turn.
So celebrate the relegalization of marijuana for sure. Just don't convince yourself that it means we've seen the end of prohibition, or of the abuses that intrusive government brings. The next big prohibition might be kratom, or another drug, or a grab-bag of substances and activities of which our rulers disapprove. What is banned matters less than the fact of the ban and the apparatus that keeps the ban in place.
Winning doesn't mean ending a prohibition, it means disempowering the prohibitionists.