Police Chief Chides Union for Neglecting Safety, Boycotting Colin Kaepernick
Cops submit their hours on their timesheets and then the department bills the team, if the cops filled their sheets out correctly.
(K.C. Alfred/ZUMA Press/Newscom)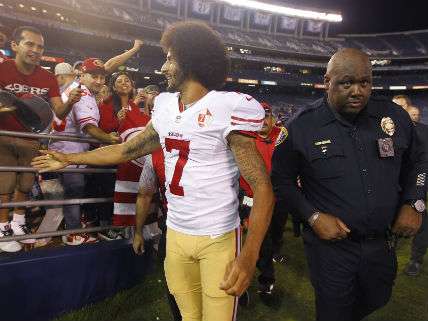 The Santa Clara police union responded to comments made by now backup San Francisco 49ers quarterback Colin Kaepernick that were critical of police by threatening to boycott work at the stadium. The police chief in Santa Clara, Michael Sellers, stepped in to try to defuse the situation.
"I will urge the (union) leadership to put the safety of our citizens first," Sellers said in a statement to USA Today. "I will work with both sides to find a solution. In the meantime, I will ensure we continue to provide a safe environment at Levi's Stadium."
Police officers working 49ers home games are paid overtime rates but are supposed to be paid by the team. This is not an unusual arrangement—as NinersNation.com notes, many stadium leases include clauses requiring some level of police protection, and in general, police officers around the country may take "side work" that is still billable as overtime.
In the case of Santa Clara police, the 49ers are supposed to pay for their protection, but due to mistakes made by police that is not always that case. In June, a civil grand jury in Santa Clara recommended the city investigate whether any taxpayer money was used on stadium operations (the referendum that green-lit the 49ers stadium in Santa Clara also prohibited taxpayer money from being used). A part of the problem Is that city officials, like police officers, are responsible for flagging their work at the stadium. They don't clock in with the 49ers but included time worked at the stadium on their official timesheets. If they don't correctly mark the time as having been spent at the stadium, the city doesn't know to bill the 49ers and pays the employees itself.
Police had been at odds with the NFL and over NFL players before. Police sued when the NFL banned guns in football stadiums and refused to carve out an exception for off-duty cops. And just in July, the police union in Cleveland threatened to stop working Cleveland Browns games because one player posted a photo of a cop being attacked. "I will pull Cleveland officers, sheriffs, state troopers out of First Energy Stadium this season if he doesn't make it right," police union head Stephen Loomis told TMZ, according to NBC Sports. "You're a grown-ass man, and you claim you were too emotional to know it was wrong? Think we'll accept your apology? Kiss my ass."
The NFL season starts tomorrow with the Super Bowl champion Denver Broncos hosting the Carolina Panthers, who they defeated in Super Bowl 50. The 49ers' first home game is on Monday night, against the Los Angeles Rams. The Browns' first home game is the Sunday after that against the Baltimore Ravens, who used to be the old Cleveland Browns.