What Did Veterans Watching (and Protesting) the IAVA Commander in Chief Forum Think of the Candidates?
Reason spoke to vets tonight at IAVA's headquarters and outside the forum.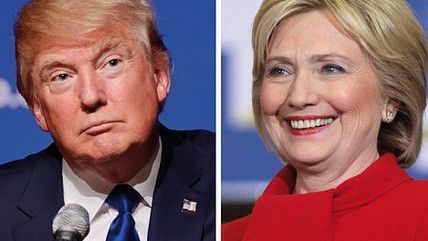 (BU Rob13/Gage Skidmore/Wikimedia Commons)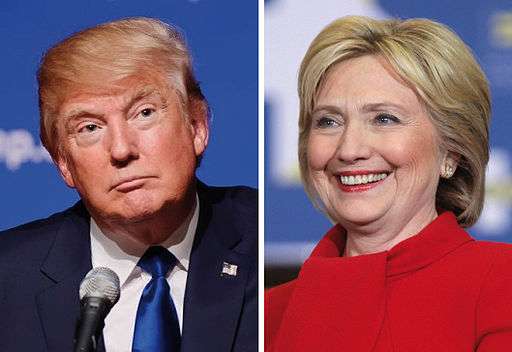 Protests against Libertarian presidential candidate Gary Johnson's exclusion from tonight's Commander in Chief forum — hosted by Iraq and Afghanistan Veterans of America (IAVA) and broadcast on NBC and MSNBC — were sparsely attended and confined to a small area on the sidewalk across from the six lanes of traffic on Manhattan's West Side Highway separating them from the site of the forum, the USS Intrepid.
As I've noted previously here at Reason, a substantial online protest over the lack of an invitation to Johnson to appear at the same forum as Hillary Clinton and Donald Trump has apparently led to a second IAVA/NBC forum which will feature Johnson and Green Party candidate Jill Stein. But those protests didn't manifest themselves into a substantial physical presence tonight in New York, with only about 20 Gary Johnson supporters appearing along the West Side Highway. Of those Johnson supporters, only one self-identified as a military veteran.
That veteran, Nicholas B, Mejia, who served in Afghanistan as a member of the Marine Corps and is now a student at George Mason University, says he has a "surprising" number of friends who are still active duty Marines and quietly support Johnson for president, but don't go public with their politics on social media because of restrictions imposed on active duty servicepeople. He says, "I'm voting for Gary Johnson because I want the pro-peace candidate to have his voice heard," adding that he and many "young and idealistic" people joined up after "buying into all the war propaganda after 9/11," but became "disenfranchised" after realizing "that [the war] had nothing to do with what we thought it had to do with."
Mejia, who is not an IAVA member, says he felt the invitation for Johnson and Stein to appear at a second forum was meant to "appease" the veterans who have been vocal in their online protest, but that "we didn't want to settle for anything less than having him on the main stage with everybody."
Later, I visited IAVA's midtown Manhattan offices, where a viewing party was being held. Organizers made it a point to repeatedly stress to its members that they could talk to the press in attendance if they wanted to, but to make it plainly clear they were speaking for themselves and not for IAVA, which is a registered "nonprofit, nonpartisan organization and does not endorse political candidates of any party," according to its website.
But a few of the approximately sixty veterans in attendance were willing to go on the record with their opinions about the candidates.
Jim, a Manhattan-based Vietnam veteran and former TV news producer, says he thinks "Trump is a total asshole" who is both "unpatriotic" and "uses vets as stage props." But that doesn't mean he has much faith in Clinton, who he says is "more fit than Trump" to be Commander in Chief, but that both candidates are "weak on questions of understanding complicated on the ground situations in the third world."
Of Gary Johnson, Jim says "I respect him, he's a smart guy," but he's not sure who he'll vote for, just that he won't vote for Trump.
Tim Hardin, who served five tours of duty in the Army in both Iraq and Afghanistan from 2003 to 2013 and is now a student at Long Island University-Brooklyn, says "politically I have some libertarian views," but that he has been leaning further left recently, particularly over what he feels is the lack of a sufficient libertarian response to climate change. He says that this time last year, Rand Paul was his "preferred candidate" and that he still wishes the Kentucky Republican senator had gained more traction in the primaries.
Hardin says neither Trump nor Clinton "satisfied me from a non-interventionist position," adding, "neither of the candidates is going to inspire me or bring me over to sympathize with them." He also says he's tired of the lip service paid to veterans over benefits and health care, and stressed that the best way to support the troops is "to have a non-interventionist foreign policy before anything."
While he has not committed to voting for anyone, Hardin thinks "If Gary Johnson were on that stage, it would have increased the quality. The competition would have made the competition better. It would have encouraged them to have more substantive answers. Gary Johnson would have challenged them." Hardin added that many people are afraid to vote for a third party candidate because they don't think it's "feasible" that one could win, but that including a candidate like Johnson in a platform with an equal footing to the two major party candidates could contribute to changing that perception.