Movie Reviews: The Light Between Oceans and Morgan
Alicia Vikander and Michael Fassbender in a deceptive heart-tugger, and Kate Mara on the trail of yet another sci-fi cyborg.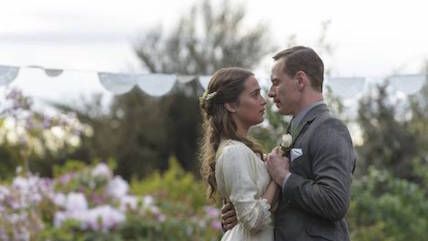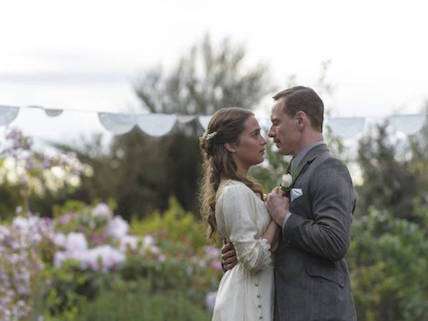 The Light Between Oceans has the hallmarks of a shameless tear-jerker. There's doom and gloom, sadness and torment, and an adorable child at the mercy of cruel fate. All that's missing is a dab of cancer and maybe an incinerated kitten.
But in adapting a 2012 bestseller by Australian novelist M.L. Stedman, writer-director Derek Cianfrance (Blue Valentine, The Place Beyond the Pines) has felt no need to pump up the book's built-in weepiness. The story presents us with serious moral issues about family and personal sacrifice, and Cianfrance maintains a tight focus on them; the heartbreak wells up naturally.
The movie might be a tough sell for an end-of-summer audience—there's not a single hearty laugh or action sequence in it. But the elemental glories of coastal Australia (and New Zealand)—the windy shores and vast blazing sky—provide beacons of light in the narrative darkness. And the actors—Michael Fassbender, Alicia Vikander and Rachel Weisz—are stirring in their emotional commitment to the troubled characters.
The story begins in 1918. The Great War in Europe is just over, and Tom Sherbourne, a soldier traumatized by four years on the slaughterous Western Front, has come to a small harbor town in Western Australia to apply for a job as a lighthouse keeper. The lighthouse is located on an island far offshore called Janus Rock (it faces the Southern Ocean on one side, the Indian Ocean on the other). It's a place so isolated that the previous tender lost his mind and now must be replaced. Tom, who welcomes the prospect of solitude, gets the job.
In the town, before shipping off, he meets a young woman named Isabel Graysmark (Vikander). She's young and sweetly spirited, and they're immediately attracted to one another (as were Fassbender and Vikander themselves, who are still an item two years after shooting wrapped). But they'll have little chance to pursue their blossoming romance: Tom is allowed no companions on the island… unless he has a spouse. "Then marry me," Isabel says, not kidding.
As time passes on the island, Isabel becomes pregnant but then suffers a miscarriage. After losing a second baby, she starts sinking into despair. Like Tom she has turned away from a pain-filled past (she lost two brothers in the war) and begun looking toward the future for a happier life. She had hoped to kindle a similar feeling in Tom's shell-shocked heart. ("You still have a light inside you," she tells him. "I've seen it.") But now her own hopes are fading.
One day, looking along the shore from high up in the lighthouse, Tom sees a rowboat drifting in through the waves. Inside it he finds an infant girl and a dead man, presumably the child's father. Tom tells Isabel that they must do the right thing and signal this discovery back to the mainland. But when Isabel insists that they keep the little girl and raise her as their own, Tom believes his wife is right, too, and he reluctantly goes along with her wishes.
Tom and Isabel return to the little town across the water for their daughter's christening. In the church cemetery he notices a woman named Hannah Roennfeldt (Weisz) kneeling before a gravestone. When she leaves, Tom sees that the stone is a memorial for the woman's husband and child, who were lost at sea. The story descends into anguish and tragedy, with no salvation in sight.
Fassbender is a pillar of conflicted virtue as a man unable to adjust his values to accommodate an impossible situation, and Weisz is deeply moving as a woman who fears she'll never have the one thing she most desperately wants. But it's Vikander who illuminates the picture with her pleading eyes and inspired procession of eloquent gestures. The movie is dark and deliberately paced, and it stumbles in its final scene, which feels awkwardly tacked-on. But the endlessly resourceful Vikander may be reason enough to see it.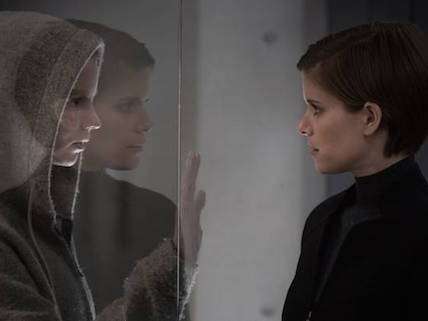 Morgan
Morgan is the latest in a long tradition of sci-fi cyber-creature movies, and it so strongly resembles last year's Ex Machina that you wonder if at any point the filmmakers felt even a twinge of misgiving about what they were up to.
Any comparison of the two movies must heavily favor Ex Machina, which had an ingenious script by director Alex Garland and a breakout performance by Alicia Vikander as the spooky robot girl. Here, screenwriter Seth W. Owen has devised a story that's short on surprises and overcrowded with characters. And first-time feature director Luke Scott (son of Ridley Scott, one of the film's producers) is unable to work up sufficient narrative energy to lend the low-key proceedings any sense of urgency. Scott has recruited some fine actors for the film, among them Michelle Yeo, Brian Cox, Jennifer Jason Leigh (mostly obscured by a face full of bandages) and, briefly, Paul Giamatti. But even they can't quite kick the movie to life.
In a dilapidated mansion out in the middle of nowhere, a team of scientists in the employ of the SynTech Corporation have fabricated an advanced robot built around synthetic DNA, which allows it to feel emotions. The scientists have named this humanoid cyber-girl Morgan (Anya Taylor-Joy), and they've come to like her quite a lot. But when Morgan unexpectedly attacks one of the team, a tight-lipped enforcer named Lee (Kate Mara) is dispatched from corporate headquarters to see what's up, and to solve the problem by any means necessary.
The contrast between these two actors is so pronounced that it unbalances the movie. Mara is an inexpressive performer (although in fairness, her grim presence here is what the role requires). Taylor-Joy, on the other hand, uses her eerie blankness and dark glazed eyes to create an uncanny being who elicits both affection and fear. (She was also very good, in a different way, as the suspect adolescent in The Witch.) But Taylor-Joy doesn't approach the sly, calculating flirtiness of Vikander's character in Ex Machina, and director Scott doesn't seem to have allowed her much leeway to bring any distinctive flourishes of her own to this role.
The story devolves into a hot pursuit, as Lee tracks Morgan through the surrounding countryside with lethal intent. There are outbursts of furious kick-assery and a nicely choreographed car chase, but it's all pretty generic. The movie ends with a twist that might have been more effective if we didn't see it coming fairly early on. But we do.