Friday A/V Club: A Vintage Anti-Hippie Film Strip
A fever-dream film strip from 1967 calls the counterculture a communist/capitalist plot.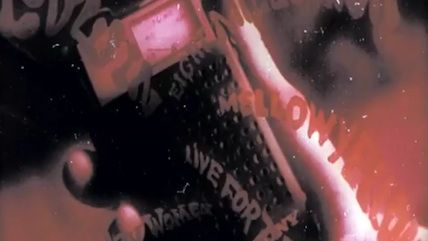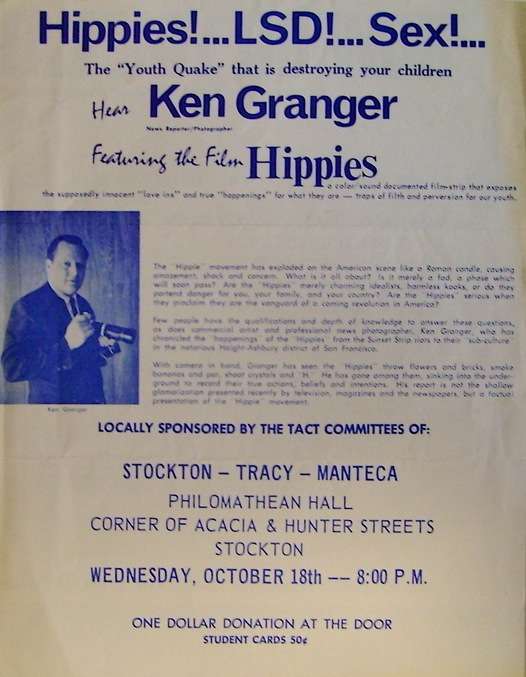 "Has man's dream of his children's future ended in a nightmare?" So asks Ken Granger in The Hippies, a lurid film strip from 1967. Granger was a member of the John Birch Society, and he blames the rise of the counterculture on the forces you'd probably expect a '60s conservative to invoke: progressive education, permissive parenting, World Communism. What makes his film interesting on more than a camp level is that he also blames big business, condemning consumerism and conformity in terms a hippie could love.
In the wake of World War II, the film strip declares, Madison Avenue started turning to psychologists for help selling products. The resulting research developed "techniques that could be used to create new desires in people, to change the philosophies of security and saving to the philosophy of spending." Young people in particular were easily manipulated, as a series of music- and fashion-focused youth cultures proved: "The technique of combining music with mass merchandising brought near total control of the purchasing habits of a whole generation."
All it then took (Granger continues) was for Communists to start using the same techniques to sell ideas instead of music. Presto: sex, drugs, and New Left subversion!
Marketers do not, in fact, have such perfect powers of persuasion, and the hippies were not a mesmerized mass of—in Granger's words—"zombie-like vegetables." But it's certainly true that the '60s "counter" culture owed a lot to the mass culture its members were allegedly rejecting. In his kooky way, Granger was noting a truth that many hippie hagiographers prefer to ignore. It's just that he filtered that truth through a paranoid worldview that owed almost as much to John Kenneth Galbraith as it did to Robert Welch.
Needless to say, you can enjoy this on a camp level too. Granger's frightened imagination leads him to all sorts of strange places (inevitably, there are wild sex parties), and he makes several basic errors: mispronouncing everything from "Phil Ochs" to "scabies" and scrambling the names of songs and of at least one organization. There's a pretty good soundtrack too, courtesy of a garage rock band called the Undecided. The credits call it "original music," which makes me wonder if the band's members knew—or cared—that they were recording something for an anti-rock film:
For a newspaper dispatch from Granger's lecture tour with the film strip, go here. For another paranoid fever dream from the era, go here. For past editions of the Friday A/V Club, go here.