A.M. Links: 52% of Voters Want Gary Johnson on Presidential Debate Stage, Trump Goes to Mexico, Tropical Storm Hits Florida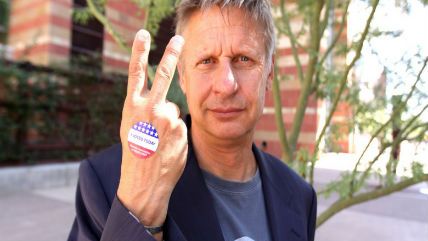 Reason

New poll: 52 percent of voters think Libertarian candidate Gary Johnson should be included on the presidential debate stage.

Hillary Clinton's unfavorable ratings are now at 56 percent.
Donald Trump says he did not discuss making Mexico pay for a border wall in his meeting yesterday with Mexican President Enrique Peña Nieto. But the Mexican president disputes Trump's account. "At the start of the conversation with Donald Trump, I made it clear that Mexico will not pay for the wall," Peña Nieto tweeted.
Jacob Monty, a member of Donald Trump's National Hispanic Advisory Council, has resigned from that group in response to Trump's immigration speech yesterday. "What I heard today was not realistic and not compassionate," Monty said.
Florida is bracing for a tropical storm.
"North Korea has executed a vice premier for showing disrespect during a meeting presided over by leader Kim Jong-Un, South Korea said Wednesday, after reports that he fell asleep."
Follow us on Facebook and Twitter, and don't forget to sign up for Reason's daily updates for more content.