New Mexico Passed a Law Ending Civil Forfeiture. Albuquerque Ignored It, and Now It's Getting Sued
A new lawsuit filed by an Albuquerque woman and the Institute for Justice challenges the city's refusal to shut down its lucrative vehicle seizure program.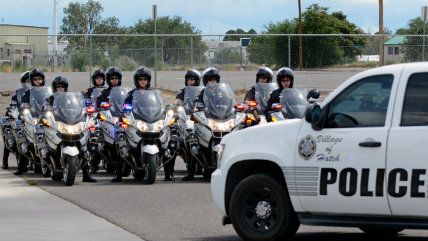 (Jim Thompson/ZUMA Press/Newscom)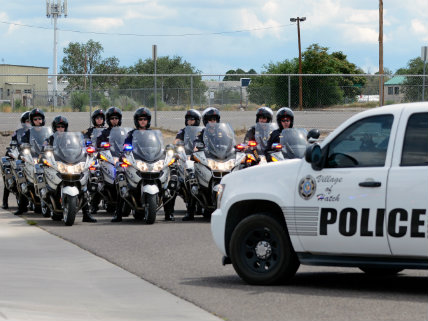 Albuquerque resident Arlene Harjo, 56, is paying off a loan for a car she doesn't have, because the city seized it for a crime it readily admits she didn't commit, under an asset forfeiture program that is supposed to be banned.
After her son was pulled over for drunk driving, Harjo became one of roughly a thousand people every year who have their car seized by the city of Albuquerque in a process heavily weighted against the property owner. But unlike the vast majority of those cases, she's not rolling over. A new lawsuit filed Wednesday in state court by Harjo and the Institute for Justice, a libertarian-leaning public interest law firm, argues the city's lucrative vehicle seizure program stands in direct contradiction of recently passed state laws and "is driven by a pernicious—and unconstitutional—profit incentive" that deprived Harjo of her 14th Amendment due process rights.
"It's a scam and a rip off," Harjo said. "They're taking property from people who just loan a vehicle to someone. It's happened a lot. Everybody I've talked to has had it happen to them or somebody they know, and everybody just pays."
Republican New Mexico Gov. Susan Martinez signed a bill into law last year essentially ending civil asset forfeiture in the state, based largely on critical stories about programs like Albuquerque's. Under civil asset forfeiture laws, law enforcement can seize property without ever convicting, or even charging, the owner with a crime. New Mexico's reforms require a criminal conviction to seize property.
Despite the reforms, Albuquerque has continued to seize cars like Harjo's, arguing the law does not apply to it. Two state lawmakers sued the city last year for its refusal to comply with the new law, but their case was dismissed due to lack of standing.
Albuquerque has a particularly aggressive program to seize vehicles from drivers suspected of driving under the influence. According to the Albuquerque Journal, the city has seized 8,369 vehicles and collected more than $8.3 million in forfeiture revenues since 2010, roughly 1,000 cars a year.
"The cases I've seen are usually where parents own a car, their kid goes out and does something stupid, and then the parents end up getting their car seized," Lisa Torraco, one of the state lawmakers who sued the city, and a practicing attorney, told me in an interview earlier this year.
Which is exactly what happened to Harjo.
In April, Harjo's son Tino asked to borrow her car to take a mid-day trip to the gym. When he didn't come back that night, Harjo got worried and started calling around. The next morning, she found out Tino had driven her car to Texas to hang out with his girlfriend. On the way back, he was pulled over and arrested for drunk driving.
"So I have to pay for a car I don't even have," said Harjo, who works as a customer service representative for Southwest Airlines. "It was pretty devastating that it got taken from me."
The city soon sent her a notice informing her that it was seizing her car, a 2014 Nissan Versa. Her first thought, she said, was that she still had a $10,000 loan on her car. Harjo decided to challenge the seizure and soon found out that her troubles were just beginning.
Vehicle owners in Albuquerque must pay $50 for an administrative hearing, plus $10 a day in lot fees for their impounded car. Public defenders aren't available in civil cases, meaning one must choose to pay for a lawyer or attempt to represent oneself. And, because the case is civil, the city only needs probable cause a crime was committed, a lower standard of evidence than in criminal proceedings. However, Harjo was held to a higher burden of proof—a preponderance of evidence—to prove she "could not have reasonably anticipated that the vehicle could be used" in the commission of a crime.
Faced with a system clearly weighted in the state's favor, many property owners choose to settle. In Harjo's case, the city offered to give her car back in exchange for $4,000 and having it booted for 18 months. Harjo rejected the offer, opting to challenge the seizure at an administrative hearing.
At her hearing, Harjo was supposed to have a neutral arbiter, but the Chief Hearing Officer in Albuquerque is Stanley Harada, the same person who crafted the city's asset forfeiture program back when he was a city attorney.
Harada lectured Harjo, arguing she shouldn't have trusted her son, according to audio of the hearing. Harjo's son had several drunk driving offenses in the past, but the last one occurred in 2009.
"By providing him with a vehicle you're taking a big, big risk," Harada said. "This law is here to try and prevent people from getting killed and injured."
"It's guilty until proven innocent, I've already found that out," Harjo shot back.
Harjo said she felt intimidated and harangued by Harada. Harada has said in the past that "about half of the vehicles that APD seizes are not owned by the offender that we confiscate it from. It's the mothers, the fathers, the wives, the girlfriends, the brothers, the uncles, the next door neighbor, and the stranger on the street."
Harada refused to release the car, and Harjo challenged the seizure in district court, which was the only reason she came onto the Institute for Justice's radar.
If Harjo had settled, the money would have gone to pay for the salaries of prosecutors and police who administer the DWI seizure program. Groups like the Institute for Justice argue those sort of perverse incentives are one of the worst aspects of civil asset forfeiture, driving police departments to go fishing for seizures.
"Civil forfeiture is one of the greatest threats to private property in the country today, and the city of Albuquerque is a prime example of how asset forfeiture incentivizes law enforcement to go after people have done nothing wrong and don't deserve to be punished," said Institute for Justice attorney Robert Johnson.
According to last year's lawsuit against the city, Albuquerque forecasts how many vehicles it will not only seize, but sell at auction. The city's 2016 budget estimates it will have 1,200 vehicle seizure hearings, release 350 vehicles under agreements with the property owners, immobilize 600 vehicles, and to sell 625 vehicles at auction.
In fact, the Albuquerque city council approved a $2.5 million bond to build a bigger parking lot for cars seized under the DWI program. The revenue to pay for the bond will come from the DWI program.
Harjo's suit is the third time in recent years that Albuquerque's forfeiture program has been challenged. Several residents filed a class-action lawsuit against the city in 2013. A state district judge found Albuquerque's forfeiture ordinance unconstitutional because it didn't provide an adequate appeals process, although the state Supreme Court later limited the ruling to apply only to the vehicles in that case.
Harjo has been left without her main form of transportation for nearly four months now. In the meantime, she is still making monthly payments on it and racking up $10 a day lot fees as well.
"The city attorney said this could take six months to a year to go to court, but I don't care how long it takes," Harjo said. "I'm just going to try and fight to get it back and hope for the best."
The Albuquerque City Attorney's office did not immediately respond to a request for comment. In one of my previous stories about legal challenges to the program, city attorney Jessica Hernandez said: "Our ordinance is a narrowly-tailored nuisance abatement law to protect the public from dangerous, repeat DWI offenders and the vehicles they use committing DWI offenses, placing innocent citizens' lives and property at risk. The ordinance provides defenses to forfeiture to protect innocent owners and has been upheld by the courts."