Mom Briefly Left Kids Alone While She Grabbed Starbucks. Cop Accused Her of Child Abuse.
Cop says most women in her situation "would do anything to get out of this."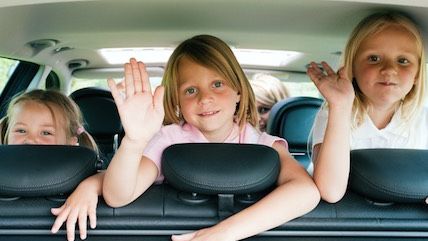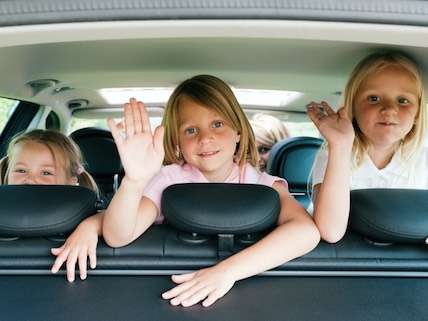 On a 70-degree day in July, Julie Koehler was driving her three girls, 8, 5, and 4, to a bouncy house in Evanston, a suburb of Chicago. She needed coffee, so she pulled up in front of a Starbucks, opened the minivan's windows and even its sliding door to let the air in, and left the kids watching a video. She was gone for three minutes.
Thus began her ordeal with the Illinois Department of Child and Family Services.
Through the window of the Starbucks, Koehler saw a police officer walk over to her car and strike up a conversation with the girls. She assumed he was saying hi. He then disappeared. Thirty seconds later, the officer was back—and now Kohler's 8-year-old was crying. She could see him back at the car and now her 8-year-old was crying. Her 5-year-old had her hands over her ears. Her 4-year-old just froze.
Koehler flew out of the Starbucks and demanded the cop tell her what was going on. This was clearly the wrong tactic, she told me later.
"He began yelling at me, asking why I was being so 'confrontational' and demanding my information, telling me that 'most women in my situation would do anything to get out of this,'" she said in an interview.
"This" turned out to be a child abuse investigation.
Koehler, it so happens, is no ordinary mom: She's a public defender in the homicide division, which means she isn't easily intimidated by the police, and she asks a lot of questions. When she asked her kids what the officer had said to them, the 5-year-old said, "He asked where our mother was and I told him you were standing right there in Starbucks."
Had the officer heeded the girl and turned around, he would have seen Koehler waving, she said. Instead, he barged into the nail salon next door and demanded to know if the mother who had "abandoned" her kids was in there. (That's what the manicurist told Koehler afterward.) The answer was, of course, was no, so he returned to grill the kids some more, and that's when they started crying.
After Koehler joined the fray and refused to back down, the officer threatened to have her children taken away. This had its desired effect. Koehler became distraught. She phoned her mom and husband to drop everything and come to her, at which point the officer gave her back her ID and left, she said.
As upsetting as all this was, she believed the incident was over. She was wrong.
"Two days later, a Department of Children and Family Services agent stood at my door," she recalled. "Despite my telling her these exact facts, my children becoming hysterical when she questioned them about the police officer, and my offering to provide witnesses (the two Starbucks employees who were totally shocked at the situation)…she faxed a report to my pediatrician's office requiring my children to undergo a physical examination."
In addition to this examination for signs of child abuse, the DCFS agent interviewed the children about the incident and about the way their mother treats them. DCFS also required Koehler to provide two references and proceeded to question them, too. But the thing that upset Koehler most was the questioning of her mental health.
"I was asked whether or not I was on any medications and both of my references were as well," said Koehler. "That is so far beyond the scope of an appropriate question from a legal standpoint. I have to get court orders and waivers signed to get medical information regarding a client. And as a mother, what a scary question! What if I was taking an anti-depressant? Would that have affected the outcome of the case? I am certainly glad that I am not. I am confident I would have been judged differently. What a deterrent for any mother considering taking medication to treat a mental illness."
In the end, a little over a month later, the agency sent Koehler a letter:
You were previously notified that the Department of Children and Family Services ("DCFS") was investigating a report of suspected child abuse or neglect in fulfillment of its duties under the Abused and Neglected Child Reporting Act, 325 ILCS 5/1 et seq.

After an initial investigation, DCFS has determined no good faith indication of abuse or neglect exists, and a formal investigation will not be conducted. This report will be "unfounded." This means your name will not be listed as a perpetrator of child abuse or neglect on the State Central Register.
Well that's a relief! But:
DCFS will maintain a copy of this investigative report for a period of one to three years.
In other words: Even though Koehler is "not listed as a perpetrator of child abuse or neglect," she is still listed as a person who was investigated for child abuse or neglect. Maybe that's not the "State Central Register" but it's not the shredder, either.
The agency did, however, offer a bit of relief:
If you believe that an intentional false report was made to DCFS, you have the right to request that DCFS maintain the report as an intentional false report.
Koehler has already made such a request.
"As you are most undoubtedly aware, there is no specific law indicating that it is unlawful to leave your child unattended in a vehicle," she wrote in her response to the agency.
The only law Koehler could have broken is willful endangerment of her children, which even a cop must realize does not apply to a three-minute errand. That's especially true, given that "more children die walking through parking lots than being left inside a car," she wrote in her letter. She went on to request the department take the cop to task for wasting its time and resources.
It would be only fitting if the officer ends up investigated for mom abuse.