Can Creepy Clowns Be Stopped?
A brief recap of maudlin (and often imaginary) clowns haunting U.S. towns recently-and why police can't stop them.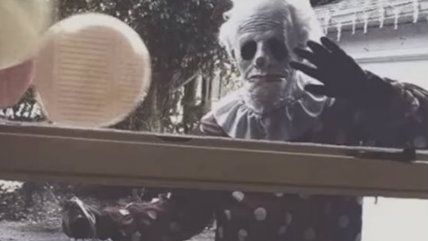 (screenshot/NBC2 News/YouTube )
They're roaming the streets, stalking our farmer's markets, diminishing our helium supply…and yet police say there's no way to stop the nomadic, peaceful-but-creepy clown menace.
One serious hindrance to law enforcement has been the fact that these clowns, often, do not literally exist. Or, if they do, no tangible evidence of their existence can be found. But that doesn't make them any less real to the residents of places like Greenville, South Carolina, where media is now warning that candy-bearing clowns are trying to lure children into the woods.
Several children, teens, and at least one mother living at the town's Fleetwood Manor Apartments claim they've spotted a "clown or person dressed in clown clothing" in woods near the complex, sometimes doing things as benign as standing alone and waving hello while other times gathered en masse waving knives, chains, candy, money and green lasers. As clowns do.
The Greenville County Sheriff's Office said Friday that "as of today's date, there has been one incident report filed with our office regarding" the clowns, and "there were two other calls related to this. One call was regarding the clown sightings and the other call was in reference to gunshots being heard in the area. In both calls, the complainants refused to give their names and no incident report was filed. Our deputies did not locate anyone matching the description when they responded." Fleetwood Manor resident Donna Arnold told WYFF4 that "like 30 kids" other than her two boys said they saw the clowns. "The children said they think the clowns live in a house near a pond at the end of a trail in the woods," the local TV station reports. But a Greenville "deputy walked the trail to a house near a pond in the woods behind the apartment. The deputy said there were no signs of suspicious activity and found no one dressed as a clown."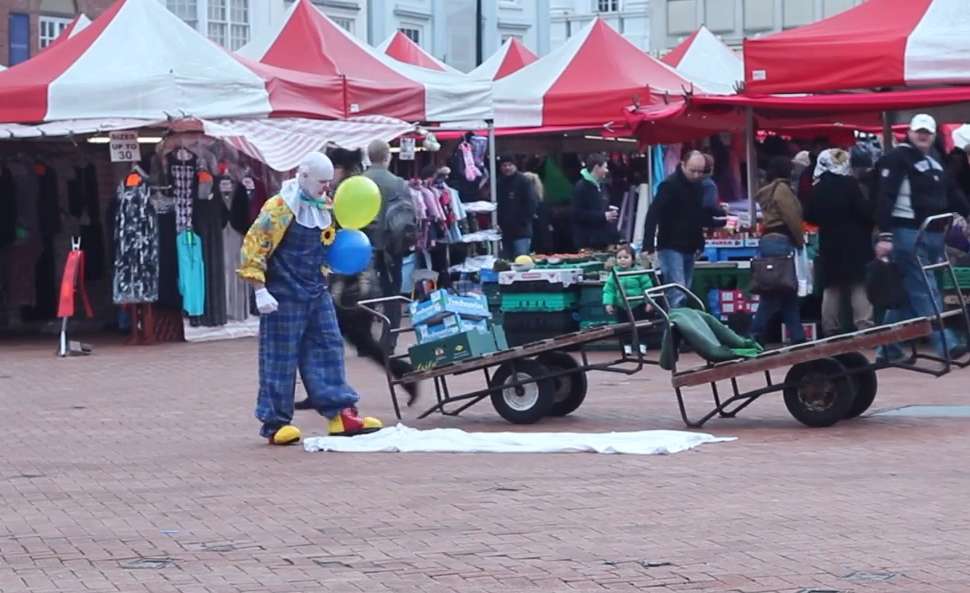 Could it be that the menacing clown hordes have simply gotten craftier, however, in the wake of recent high-profile outings? Since 2013, an array of creepy clowns—sometimes solo, sometimes in packs—have allegedly been spotted from France to Florida, New Mexico to Northampton, England…inspiring similar waves of panicked parents, fearful Facebook posts, and faux-concerned reporters.
In those instances, police were largely unable to condemn the clowns because they weren't actually doing anything wrong. Dressing as a creepy clown is not, in itself, a crime. Maybe some of these clowns were just on their way to costume parties when spotted, or fetish balls, or whatever. Maybe some were earning a living, like Wrinkles, the Florida clown who's invited by parents to scare misbehaving children for a fee. ("I'm just a good old-fashioned clown," Wrinkles, anti-safe-space warrior, told The Washington Post last year. "When I was a kid, it was okay to scare kids and now they're all whiny and scared. I want to bring scary back.")
Maybe some were working on an art project, like the husband and wife behind the Wasco Clown spotted in California in 2014…or like the teenagers copying the Wasco Clown after learning about it from social media, breathless broadcasts, and Uproxx listicles.
Creepy clown named 'Gags' is freaking out Wisconsin town https://t.co/HkZz7N0QcN pic.twitter.com/GeNoCjni2Y

— FOX8 WGHP (@myfox8) August 5, 2016
During the 2014 Wasco Clown fiasco, copycat creepers were spotted in Bakersfield, California (where the news warned of scary clowns clamoring about town with baseball bats and knives but the only clown was caught was an unarmed 14-year-old who told police he was participating in a prank); Albuquerque, New Mexico; and Fishers, Indiana. Police in Fishers asked residents to report clown sightings but stressed that walking around in a clown costume wasn't, on its own, against the law.
Police in Green Bay, Wisconsin, echoed this sentiment in early August after receiving several calls about a menacing clown carrying black balloons through the city. Police Captain Kevin Warych explained that there was nothing they could do about "Gags" the clown because "a person can walk down the sidewalk dressed however they want as long as they're in a place they legally can be."
Not so in France, where some towns banned clown Halloween costumes in 2014 after their own Wasco-Clown copycats emerged. France, however, has problems with fashion policing more broadly. Americans towns, too, can sometimes move to micromanage clothing (hello sagging pants, miniskirt, and tight pants bans). But good on us, I guess, that we're still tolerant enough to let creepy clowns be.