Hillary Forgets the Growth Lessons of Bill's Presidency
In order to appease far-left voters, she's abandoning economic literacy.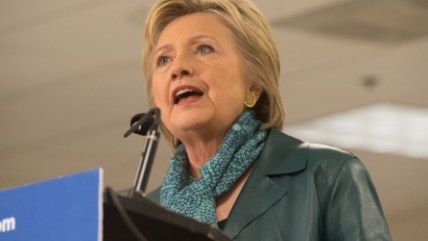 (Morgen Schuler The Photo Access/Newscom)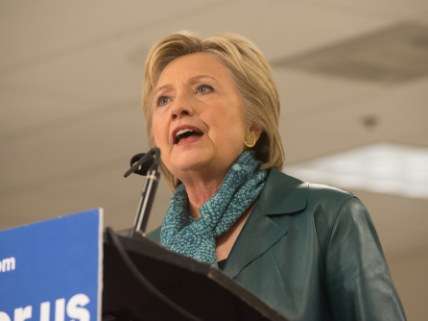 For the past year, the Republican Party has behaved as though it is determined to abandon its best principles and alienate voters for years to come. The derailment has been so spectacular that it's easy to miss that Democrats are also veering in a direction that is ominous for both themselves and the country.
Though Bernie Sanders lost the presidential nomination to Hillary Clinton, her victory came through capitulation. On issue after issue, she did her best to defuse his appeal by embracing his ideas and his rhetoric. That strategy worked in the primaries and, thanks to the self-destructiveness of Donald Trump, probably won't keep her from winning in November. But it promises to be a burden on her presidency and her party's future.
It also neglects the lessons taught by another Clinton, Bill. Partly because his administration was so successful, Democrats have won the popular vote in four of the five presidential elections since his 1996 re-election. The thriving economy of his era created nearly 23 million jobs, cut the unemployment rate below 4 percent, kept inflation low, rescued 6.3 million Americans from poverty and set a record for the longest peacetime expansion in U.S. history.
Clinton knew that a booming economy is the closest thing to a cure-all. He pursued it with a combination of fiscal discipline, free trade and a light regulatory hand. Jimmy Carter, a Democratic president synonymous with economic chaos, had proved the folly of federal interference in wages and prices. A big part of Clinton's wisdom lay in what he didn't do.
But Hillary Clinton, pushed leftward by Sanders, has forgotten what fueled that prosperity. Her husband signed NAFTA, reached free trade agreements with Israel and Jordan, induced Beijing to submit to the rules of the World Trade Organization, and rebuffed demands for new import restrictions.
Hillary opposes the trans-Pacific free trade deal—but it was Bill who originated the idea, over objections from the leftists of his day. He thought global integration would foster global growth, and he was right.
During his first term, Clinton resisted demands to increase the minimum wage. In 1996, he acceded to an increase of 21 percent—but when Democrats led by Sen. Edward Kennedy, D-Mass., proposed another 40 percent increase, the president helped scotch it.
He feared that even with the economy humming, a boost of that size would destroy jobs. Hillary Clinton, however, is willing to sign a bill raising the minimum wage to $15, more than double the current $7.25—at a time when the economy is less robust than when her husband balked.
She also shows no inclination to restore the balanced budget that Bill did so much to attain. It was an achievement that had not been realized in nearly three decades—and has not been duplicated since.
Although her fiscal plans are much more restrained than her opponent's, she would raise the total federal debt by 50 percent over the next decade, according to the bipartisan Committee for a Responsible Federal Budget. (Trump would more than double it.)
It's not just her specific policies that would hobble growth; it's also her broad approach and her eagerness to indulge the Sanderistas. The Progressive Policy Institute, a centrist Democratic think tank once known as "Bill Clinton's idea mill," has warned of the dangers of depicting "working Americans as pitiful victims of stock villains like Wall Street, giant corporations, China or illegal aliens."
In a report published in March, PPI urged Democrats to "reject magical thinking," as well as European-style fixes. "A progressive government's job is not to direct the private economy or shield people from market competition—from which mass prosperity arises—but to equip them to manage economic change," it argued, in terms that echo Bill Clinton.
This is a sound approach as economic policy. It's also good politics in a country that is dominated by Republicans at every level but the presidency. Only 18 governors are Democrats. The GOP controls the legislatures of 31 states and both houses of Congress.
Aggressively liberal remedies and rhetoric may work in Democratic presidential primaries. But they're mostly an albatross in other elections, where voters are rightly wary of government-heavy solutions. They're also a drag on the economy.
Bill Clinton did a huge amount to advance liberal goals by refusing to lurch to the left. What part of that does Hillary Clinton not understand?
© Copyright 2016 by Creators Syndicate Inc.