Clinton Foundation Defended, Trump Immigration Positions Defended, EpiPen Costs Defended: P.M. Links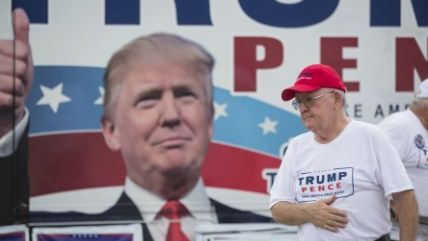 (Loren Elliott/ZUMA Press/Newscom)
Loren Elliott/ZUMA Press/Newscom

Hillary Clinton is insisting her meetings with global leaders and others who had given significant donations to the Clinton Foundation did not influence the things she did as secretary of state.

Donald Trump's campaign is insisting that his positions on immigration have not changed. His allies are finding the situation a little bit awkward.
Trump's name nearly got left off the Minnesota ballot, but it looks like the Republican Party came through at the last minute.
Hospitals in Orlando say they won't be billing the victims of the shooting at the Pulse nightclub for their treatments. They'll try to find reimbursements from state and federal funds and private funds made to help victims.
Martin Shkreli (a.k.a. "pharma bro") defended the price increases for EpiPens and blamed the pricing on insurance companies.
Apple's put out a new security update for its iPhone operating system after a company uncovered what appears to be spyware being used by government hackers in the Middle East.
Follow us on Facebook and Twitter, and don't forget to sign up for Reason's daily updates for more content.