Chicago Culture Cops Tax Concert-Venues Because Rap, Rock, Country Aren't 'Art'
The taxman plays art critic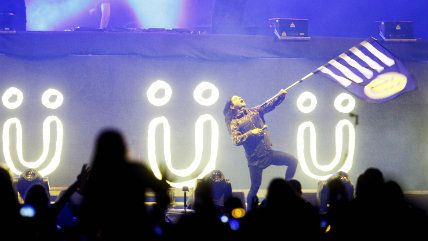 (Sebastián Silva/EFE/Newscom)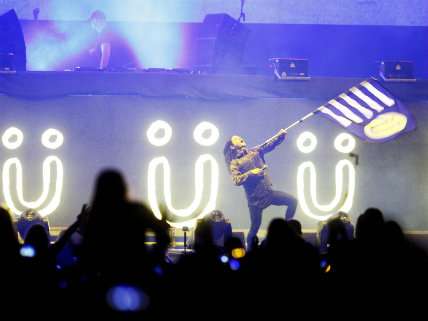 When is a live musical performance not a live musical performance? When it takes place in Chicago and the genre is rap, rock, country, or electronica. According to local officials, such concerts don't fall under the category of either "music," "fine art," or "culture"—and hence bars that host them must pay up.
See, under the law in Cook County—which includes the city of Chicago—all event venues are subject to a three percent tax on ticket sales unless the event in question is a "live theatrical, live musical or other live cultural performance." County code later defines cultural performances as "any of the disciplines which are commonly regarded as part of the fine arts, such as live theater, music, opera, drama, comedy, ballet, modern or traditional dance, and book or poetry readings." Most area venues that host live musical performances of any kind took themselves to be exempt.
But the county has recently been trying to squeeze more amusement-tax money out of local businesses by insisting that some live musical performances don't count for tax-exemption purposes because they're not artistic enough. The Chicago Reader reported last week on Cook County's attempt to ring more than $200,000 in back taxes out of Beauty Bar, along with money from around half a dozen other venues "that routinely book DJs or electronic music."
Pat Doerr, president of Chicago's Hospitality Business Association, said the move likely stems from a 2014 appeals court ruling allowing the county to go after the Chicago Bears for $4 million in unpaid amusement taxes. "My suspicion makes me think they wanted to look at every possible way to collect amusement taxes," he told the Reader, "and that's where we're at today."
At an administrative hearing on Monday, Cook County officials clarified their position: it's not just DJ or electronica music that is suspect but rap, rock, and country music also. "Rap music, country music, and rock 'n' roll" do not fall under the purview of "fine art,'" Anita Richardson, an administrative hearing officer for the county, explained.
Under Richardson's interpretation of the code, it's not enough for a performance to merely contain theater, music, comedy, dance, or literature. No, only specific works which live up to county culture cops' standards get a pass. As Bruce Finkelman, managing partner of one of the company that owns Beauty Bar, complained, such a position essentially requires a performance venue to check in with the county for every show it books to see what state art critics think.
Even Cook County Commissioner John Fritchey seems flabbergasted by the position. "No pun intended," he told the Reader, "but I think the county is being tone deaf to recognize opera as a form of cultural art but not Skrillex."
The next administrative hearing for Beauty Bar and co. is scheduled for October. The administrative hearing officer told owners they should bring musicologists to "further testify the music you are talking about falls within any disciplines considered fine art."