Rebuilding After Louisiana Floods Will Require Government Permission Slips
And new federal regulations could add to the cost of rebuilding or force some residents to abandon their homes.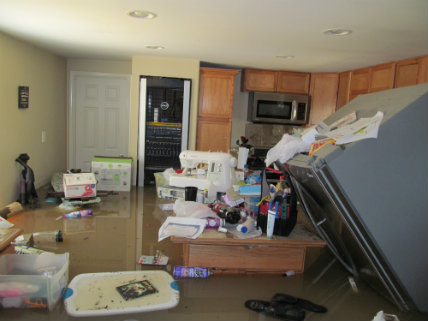 After two weeks of devastating flooding in Louisiana that left at least 13 people dead and thousands homeless, residents are starting the arduous task of cleaning up and rebuilding.
President Barack Obama joined the fray on Tuesday, making a visit to some of the hardest hit areas of East Baton Rouge Parish and promising government aid to those affected by the historic flood.
As residents of the area will learn in the coming weeks: that government aid comes with strings attached that could drive up the cost of rebuilding or even prevent people from staying on the same property. Even if that's not the case for others, mandatory government permission slips are required before any substantial work can be done.
"We haven't suspended any of our requirements for permitting," Justin Dupuy, the building official for the city of Baton Rouge and East Baton Rouge Parish said Wednesday in an interview with Reason. "Before they start making any repairs, they just need to call in and check with us to see what they need."
Any buildings where floodwaters reached the level of electrical sockets will require permits for electrical work and any substantial flooding—situations where more than just carpets and drywall have to be hauled out of the house and replaced—will likely require a full construction permit from the parish government.
The good news is that local officials have waived all fees on permits issued for flood-related damages, but permits are still mandatory because the local government might not allow some of the 20,000 damaged structures in East Baton Rouge Parish to be rebuilt.
In the Baton Rouge area alone, the damage is staggering. The Baton Rouge Area Chamber estimates the final price tag will exceed $20 billion for the 110,000 homes affected by the flood. In East Baton Rouge, more than 32,000 residential units were flooded.
Dupuy said building inspectors will review homes and businesses that sustained serious damage and decide if they meet the city's elevation requirements. Buildings that aren't at least one foot above the federal government's officially designated flood zones will have to be rebuilt on higher ground or will have to be demolished and residents moved to higher ground.
Once residents and homeowners get done with the local government permitting process, they're in for another headache courtesy of the federal government.
As the Wall Street Journal reported on Wednesday, new federal regulations approved by the Obama administration last year will change how federal agencies like FEMA handle post-flood rebuilding plans.
The biggest change would require all projects to be built at least two feet higher than the previous federal standard for flood prone areas. That standard, maintained since the creation of the federal flood insurance program in the 1960s, is based on the one-hundred-year flood benchmark. The Obama administration pushed for the extra two feet because of concerns about rising water levels caused by climate change.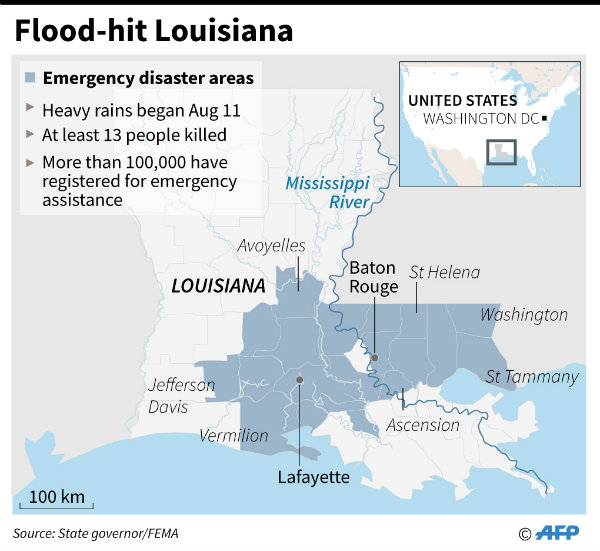 For resident of East Baton Rouge, the dueling standards could creation confusion. All homes have to be at least one foot above the 100 year flood zone to meet city permitting requirements, but the new federal standard of two feet above the flood zone could kick-in if any federal money is used on a specific project.
Guidance published by FEMA last year says future building projects covered by the new set of regulations "may have higher initial costs than those projects not subject to these new requirements," although FEMA believes long-term costs will be lower since the new rules would prevent future damage from similar floods. Anyone who relies on a loan from the Small Business Administration (which issues loans to low and middle income families after natural disasters) loans could become more expensive under the new rules and some applicants may be denied "if the additional cost to elevate (the building) would make the loan unaffordable," according to FEMA's guidance.
"This (new regulation) is the very definition of red tape." said Cole Avery, communications director for U.S. Rep. Ralph Abraham, R-Louisiana, whose district includes some of the worst-hit parts of northern Louisiana. "The administration claims this rule will create more savings in the long run, you know, in case another 1,000-year flood happens. But the reality is that about 130,000 Louisianians have experienced flooding this year, and they need help now. Heaping higher expenses and mountains of new regulations on them is not going to help them get back on their feet."
If taxpayers are going to help cover the cost of rebuilding, it makes sense for the govenment to take steps to ensure rebuilt homes and businesses won't be washed away again next year. That would be fine if the flood zones were an infallible system, but this month's flooding in Louisiana demonstrates that those flood zone benchmarks aren't always able to predict what areas are safe or how much elevation will protect against future floods. Many of the worst-hit areas were actually outside the federally defined flood zones, but were flooded anyway because more than 6.9 trillion gallons of rainwater fell on the state in one week and it all had to go somewhere.
In East Baton Rouge Parish there was significant damage outside the flood zones because of the "oddball" nature of this disaster, Dupuy said. Most of the city is actually above the federally defined flood zones. Adding to the cost of rebuilding is the fact that only about 20 percent of homes in Louisiana–and only about 12 percent in Baton Rouge–have flood insurance, according to NoLa.com.
With all the hard work ahead of them, the people of Louisiana need more than a few words of comfort from the president. Not making it more difficult or more expensive for them to rebuild their homes would be a good place for the government to start.