Death Metal vs. Donald Trump
The band Brujeria takes on the GOP nominee.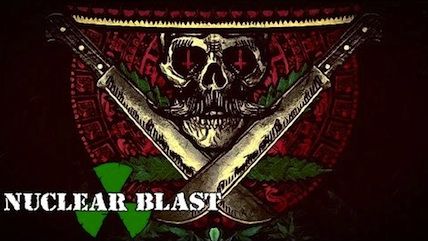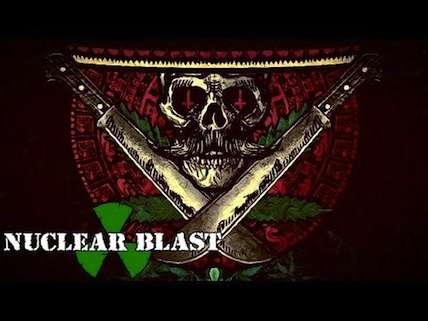 On September 16 Nuclear Blast records will release Pocho Aztlán, the latest studio album by the Mexican-American death metal band Brujeria. The group combines thrashing guitars and blast-beat drumming with first-person lyrical accounts of murder, mayhem, and assorted acts of narco-terrorism, all sung (screamed) in Spanish. Needless to say, it's pure theater of the macabre. Just like Kiss and GWAR before them, Brujeria perform in the guise of outlandish fictional characters. Specifically, the members of Brujeria portray a gang of Satanic killers affiliated with Mexican drug cartels. Their songs tell the tales of their bloody "exploits."
Originally founded in 1989 as a side project of Fear Factory guitarist Dino Cazares and Faith No More bassist Billy Gould, Brujeria has turned into something of an underground music supergroup over the years, with a lineup that has featured such notable players as bassist Jeffrey Walker (Carcass) and drummer Nick Barker (Cradle of Filth/Dimmu Borgir). If you happen to enjoy extreme heavy metal and/or extremely violent crime or horror movies, you might enjoy Brujeria too.
The band's recent single "Viva Presidente Trump!" offers a nice introduction. Spoiler alert: It's not exactly a pro-Trump song. Translated, the lyrics include stuff like this:
He hates Mexicans
If Trump wins he'll deport everyone
He hates my race, he loves his money
That crazy güero is going to start a war
According to vocalist Juan Brujo (real name John Lepe), the song "was on shelf for years with no idea for vocals. It was gonna be an 'Anti-Castro' part II song but nothing came out of it. It just needed proper motivation to go an attach itself to someone…and Trump came thru!"
Check out the NSFW teaser video for "Viva Presidente Trump!" here.
Related: The politics of Megadeth and the politics of hardcore punk.