Autostraddle Apologizes for Favorably Reviewing the 'Animated Queer Taco' in Sausage Party
Salma Hayek's lesbian taco character is really racist, apparently.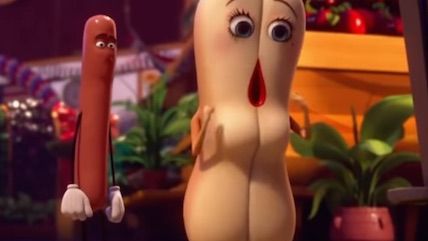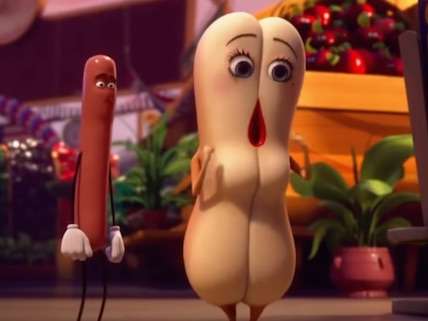 A news site aimed primarily at LGBTQ women issued a remarkably comprehensive apology after it ran a review of Seth Rogen's new film, Sausage Party, that hailed the inclusion of Salma Hayek's sexually-curious Latina taco character.
That's probably not a sentence anyone expected to read.
The apology is unintentionally hilarious. Autostraddle's Heather Hogan writes that she decided to remove the review from the website—it was deleted entirely, but is available at afterellen.com—after receiving a barrage of criticism. Says Hogan:
After we published the review, we heard from Latinx readers who believe the portrayal of Salma Hayek's taco was racist and that it reinforced harmful stereotypes. We heard from readers who were upset that we labeled the taco a lesbian when it seems more likely that she was bisexual. We heard from readers who questioned the consent of the sexual encounter between the taco and the hot dog bun. We heard from readers who found the taco to be a damaging portrayal of a predatory queer woman.
In other words, people disagreed with the author of the article, Elyse Endick. And that's okay—people respond to art differently. One person might think a female cartoon taco hitting on a female cartoon hot dog bun is a positive portrayal of a lesbian relationship. Someone else might disagree.
But it's a little odd to disappear the review entirely just because some readers had a problem with it. (To be clear, Autostraddle is a private company that can publish and un-publish whatever it wants.) Equally troubling is Autostraddle's editorial policy—which becomes clearer as the apology goes on—of denying writers the authority to review works of art depicting or concerning characters whose race is different from the reviewer. Indeed, during the Slack chat about whether the review should run in the first place—a conversation we are privy to only because Autostraddle has decided to be weirdly transparent about this—one of the first things a senior editor, Yvonne, asked was whether the reviewer was white. Hogan responded that she didn't know. (The editor also complained that the film was "meant for stupid fucking men.")
Hogan eventually notes that their coverage of Netflix's Orange Is the New Black—something she's proud of—revolves around the race of the reviewer. It was essential for the majority of episodes to be reviewed by women of color, and it was important for episodes principally concerning black characters to be reviewed by black writers, Latina characters to be reviewed by Latina writers, etc.
Back to Sausage Party. Yvonne offered her own apology "to Latinx readers specifically" for deciding to run the piece:
I knew the taco was a racist caricature but attributed it to a systemic problem in media that wasn't necessarily our problem. But it became our problem when we used our voice as a queer publication to write a positive review of that racist caricature and perpetuated a racist narrative for the sake of the queer representation in the film. I was wrong for not stopping this immediately, especially when it deeply effects my own people.
But Endick didn't say anything positive about the racial aspect of the character. On the contrary, she noted, "Sausage Party is far from perfect. There have been accusations against the studio for underpaying its animators, and even more lobbed at Rogen for the film's cavalier takes on issues such as race and sex." She merely suggested that the taco's same-sex attraction was worth celebrating.
Autostraddle's apology is a really easy thing to make fun of, and here I am, making fun of it. Let me say this one more time: its editors have every right to publish and subsequently remove content from their website.
But shouldn't we all take exception to the idea that one must belong to a certain racial or gender category in order to comment on that group's portrayal in a work of art? And shouldn't we all be a little skeptical that talking tacos are so evil, so patently racist, that failing to properly disparage them in an article should be grounds for deletion?